PCs left unprotected as ZoneAlarm, Comcast's Norton struggle with Windows 8.1
We all know that apps installed while running the preview release of Windows 8.1 need to be reinstalled after upgrading to the final version.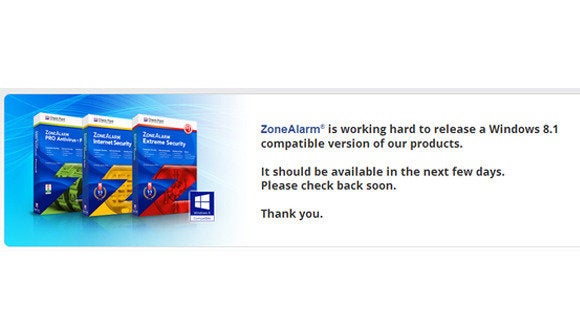 At least two security software suites are struggling with Windows 8.1, leaving users potentially unprotected as they upgrade to the new version of Microsoft's operating system.
Microsoft made it clear that apps added during the Windows 8.1 preview period would need to be reinstalled after upgrading to the General Availability (GA) release. But Check Point Software's Zone Alarm Suite and the Comcast-supplied Norton Security Suite appear to providing additional headaches—n some cases, they simply have stopped working.
While I upgraded to and negotiated the Windows 8.1 upgrade process on my Surface Pro, I left another Windows 8 PC untouched until after the GA release. I then upgraded the PC. On Sunday night, I noticed the "Solve PC Issues" flag on that PC was highlighted. The problem, as it turned out, was that the Zone Alarm free firewall wasn't working properly.
Or, as it turned out, it wasn't working at all. When I visited the Check Point website, I discovered that "Check Point was working hard" to develop a Windows 8.1 version of its app. In other words, that PC was apparently left unprotected for several days. And I wasn't alone: "ZA Extreme was disabled when I installed Windows 8.1," one user asked. "Will there be an update anytime soon?"
Similar problems have been reported by users trying to use the version of Symantec's Norton Internet Security suite that Comcast bundles as part of its high-speed Xfinity broadband service.
Fair warning delivered
It wasn't like Microsoft didn't give an early warning to developers to upgrade in time for Windows 8.1—in fact, after Microsoft initially decided not to provide Windows 8.1 via its developer channels, it relented and reversed course. Late in August, Microsoft began shipping the final version of Windows 8.1 to OEM customers.
In all, developers like Check Point had more than a month to prepare. But Check Point appears to have last updated all of its security suites—from ZoneAlarm Extreme Security down to the free Zone Alarm firewall beloved by cheapskates everywhere—on Aug. 21, well before the GA release on Oct. 17.
In fact, if you own a Windows 8.1 machine and want to download a ZoneAlarm product like the free firewall, you can—but be aware that Windows will alert you of a compatibility error and prevent you from installing it.
Check Point has been tardy before: it added Windows 8 support on Nov. 9, 2012, according to its release notes. But as rival security vendor Kaspersky proved, it is indeed possible to prepare for Windows 8.1 ahead of time, and to release an software update that would be in sync with the latest version of the OS.