PC sales continue to plunge, but the drop is less steep
The PC market moved into its sixth straight quarter of declining sales, analysts reported on Wednesday, although the dip was less pronounced than one firm expected.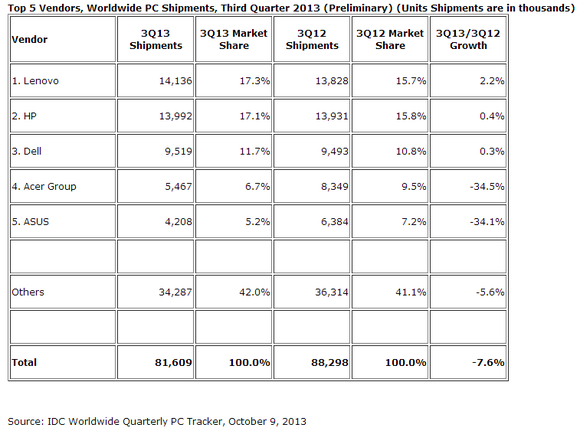 IDC largely agreed with Gartner's numbers (as shown in the above chart), although the firm said that Acer and Asus recorded a steeper drop in shipments.
Both IDC and Gartner typically release tablet sales as part of a separate report, which will provide more insight into how the overall market will fare.
So far, the promise of Windows 8.1 has failed to ignite the PC market, as has the new "Haswell"-based notebooks from Intel's PC partners. Will the fourth quarter show some signs of life, as Microsoft has predicted? So far, the best news is that it looks less gloomy than predicted. And that isn't saying much.