OS X catches a wave, as Apple previews OS X Mavericks
Apple Senior Vice President Craig Federighi previewed the next version of OS X on stage at Monday's Worldwide Developers Conference keynote, Mavericks. The cats are.
When it comes to OS X, the cat is out of the bag.
Apple senior vice president of software engineering Craig Federighi introduced the next iteration of Apple's Mac operating system on stage during Monday's Worldwide Developers Conference kickoff. Federighi began his presentation with a sly nod to OS X's past naming conventions. "We do not want to be the first software in history to be delayed due to a dwindling supply of cats," he said. While "OS X Sea Lion" was briefly considered, Apple has instead decided to launch a new naming convention, based on inspiring places in California.

Sadly, OS X Sea Lion will stay in Apple's naming vaults forever.
The first of these releases has been named OS X Mavericks, after the northern California surfing spot. Federighi previewed three new features present in Mavericks: Finder Tabs, Tags, and Multiple Displays. In addition, Mavericks includes a slew of under-the-hood improvements; updates to Safari, Calendar, and Notifications; new password syncing options via iCloud; and brings Maps and iBooks to the Mac.
Finder tabs
If you use tabs in Safari, Finder tabs will feel very similar; Apple has taken the same basic window structure, allowing you to combine multiple Finder windows into a single window with tabs along the top. You can even move files from one tab to the other by dragging and dropping.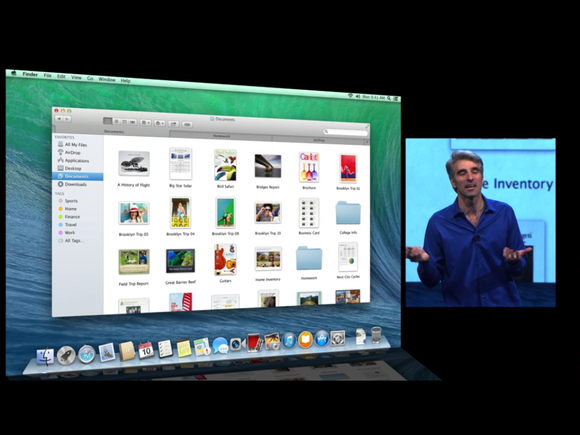 Tags
Tags are OS X Mavericks's answer to the Labels options of yore; you can tag files that are both stored in iCloud and on your local machine.
You can add tags when saving documents: Select an already-used tag, or invent one on the spot. After you do, tags show up in your Finder sidebar. If you want to add a tag to older documents, just drag them into the tag category in the Finder sidebar.
Tags are color-coded, and they've also been incorporated in Finder's search feature, allowing you to search by tag (or multiple tags).
Multiple displays
Federighi announced multiple displays to cheers and applause throughout the keynote hall, which he tapered somewhat by joking "we're not giving you a free multiple display here; it's just software."
Mavericks's multiple displays improves greatly upon the lackluster offerings found in Lion and Mountain Lion. Linen second-screen placeholders are gone, replaced with complete support for full screen apps on screen number one and desktop display on screen number two.