Origin EON17-S review: This gaming laptop is an absolute beast
Super-fast and super-expensive, this machine will play any game you can think of at high resolution.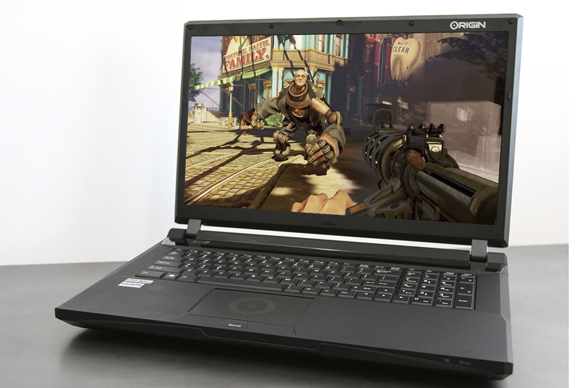 I'm a gamer. And, like most gamers, I prefer huge, liquid-cooled, multiple-graphics-card-sporting desktops to laptops (even gaming laptops). But sometimes you need a machine that's as portable as it is powerful, and that's where Origin's extreme gaming laptop, the EON17-S, comes into play.
This hulking desktop replacement is pretty sexy, considering it's an 11.25-pound monster. That's without the two-pound power brick you won't be able to ditch, because the EON17-S gets only two hours of battery life, despite the presence of a mobile Haswell CPU (then again, we're talking about one of Intel's Extreme Edition parts).
The base model EON17-S is pretty reasonably priced (for a gaming laptop) at just $1,616. But our review model isn't the base model—it's the EON17-S on steroids, and it'll set you back a whopping $3,760. That's actually not a bad price for its impressive specs: A fourth-generation Intel Core i7-4930MX Extreme Edition processor, 16GB of DDR3/1600 RAM, a discrete Nvidia GeForce GTX 780M graphics card, 240GB of solid-state drive space, and a 750GB hard drive that spins its platters at 7200 rpm. The EON17-S also features a Blu-ray writer and runs Windows 8.1 Home.
Performance
The Core i7-4930MX processor doesn't disappoint: In our Notebook WorldBench 8.1 benchmark tests, the EON17-S scored a 449, which means it's more than four and a half times faster than our baseline test model, an Asus VivoBook S550CA with a third-generation Intel Core i5 processor and integrated graphics.
The Micro Express NB5720 did slightly better, with a Notebook WorldBench score of 483, and a couple of other gaming laptops came close, including the Asus G750JH Gaming Notebook (435) and the Toshiba Qosmio X75 A7298 (430). All three of these EON17-S competitors feature Haswell processors and Nvidia 700 series graphics cards, but the Origin is the only one to feature Intel's most powerful mobile CPU.
But WorldBench scores aren't everything—far from it, in fact. While WorldBench tests how well laptops perform everyday tasks (such as surfing the Web, juggling multiple open applications, and running PowerPoint and Excel), it doesn't test a laptop's gaming potential—namely, its graphics skills. And graphics are where the EON17-S dominates, thanks in part to its Nvidia GeForce GTX 780M graphics card.
In our Bioshock Infinite graphics test, the EON17-S manages 214.2 frames per second (low-quality settings, 1024-by-768-pixel resolution). By comparison, on the same test the Asus manages a similar 208.9 fps, while the Qosmio and the Micro Express manages 165.3 and 63.9 fps respectively.
In other words, the laptop that beat the EON17-S in WorldBench (the Micro Express) gets owned when it comes to graphics tests. In fact, the Micro Express manages a barely-playable 27.5 frames per second on our Dirt Showdown graphics test (low-quality settings, 1024-by-768 pixel resolution), while the EON17-S whisks along at a speedy 123.6 frames per second. So don't judge a notebook solely by its WorldBench score.