Once fighting for the low end, Chinese smartphone vendors focus on pricier products
ZTE, Xiaomi, Lenovo and others are bringing higher-end devices in China.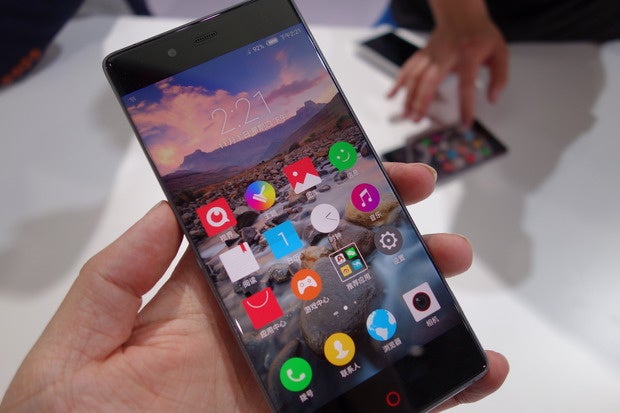 Nubia Z9, while bezel-less, is a bit heavy and covered in glass. Credit: Michael Kan/IDG News Service
This week when ZTE launched its latest phone, the Z9, the Chinese company wasn't embarrassed to reveal its high price.
The cutting-edge device will retail in the country starting at 3499 yuan (US$574), which is far more than the cost of low-end handsets that have flooded store shelves, and turned China into the world's largest smartphone market.
For years, Chinese handset vendors have been competing in the local market by offering cheap products that most people can afford. Prices have continually gone down, as rival companies have sought to undercut one another with Android phones at 599 yuan or even lower.
But with the market already saturated with cheap devices, some of these vendors are starting to focus on pricier phones, and hoping that Chinese consumers will buy them.
On Wednesday, ZTE unveiled the Z9 through its Nubia brand, which has so far not been used on low-end handsets. The whole point of Nubia has been to create a premium product line, said the brand's senior vice president Felix Fu in an interview. He's betting that the market wants more choice in the high-end segment.
"Consumers wanting to upgrade to something better is a big trend in China," he said. "More consumers are willing to spend more, if it will buy them a product with better value."
Chinese phones are sometimes stereotyped as being inexpensive, but shoddy devices. The Z9, however, is a different animal. It uses a rarely seen bezel-less screen, fitted in a sleek metal frame.
ZTE hasn't been alone in trying to offer expensive phones. Fast-rising Chinese handset maker Xiaomi is perhaps best known for offering low-cost Android Phones. But next week, it will start selling its priciest handset yet. The Mi Note Pro will retail at 2999 yuan, and comes with a 2560 by 1440 pixel screen and 4GB of RAM.
Lenovo, on the other hand, has reintroduced the Motorola brand in China, as a way to target consumers with larger wallets. The Moto X, for example, starts at 2999 yuan and the Moto X Pro at 4299 yuan.
Chinese handset makers don't want to settle at making low-end products, and instead strive to become quality brands, said Wang Jingwen, an analyst with research firm Canalys.
Local consumers were once willing to buy "ultra low-cost" devices that were priced at $50 to $60 when purchased without carrier subsidies. But as these consumers move on to buy their next smartphone, they've become pickier and want more quality, she added.
"Vendors have told us they are coming out with fewer of these ultra low-end products, because there hasn't been as much demand," Wang added.