Oculus's Nate Mitchell on Valve vs. Rift, Touch controller vs. Xbox gamepad, and more
Oculus VR's VP of product explains why the Rift headset will ship with an Xbox 360 gamepad, but not the Oculus Touch VR controller.
Are you at all worried people will buy Touch and nobody will develop for it?
NM: I think the other thing when you get compared to Kinect and the Wii Fit board or these things-"Do I really want to game with this thing?"
You talk to most gamers out there, you ask "Do you love gaming with Kinect?" Most gamers are probably going to say...no. Take what you will from that. I think a lot of accessories have followed that trajectory.
I think what's different about Touch, and you'll have to tell me, is that when you play with Touch-most people are coming out of the Touch demo saying "I want that right now. It's awesome. The experiences it enables are so cool I want to play more games like that." I think what you're going to see is developers opting into Touch because they can do brand new stuff, gamers opting into Touch because they want that experience. If both those things go really well-plus we're investing ourselves in the ecosystem-we should be able to get to a really good spot. And then for Gen 2 or Gen 3 of VR we can see what's working and what's not.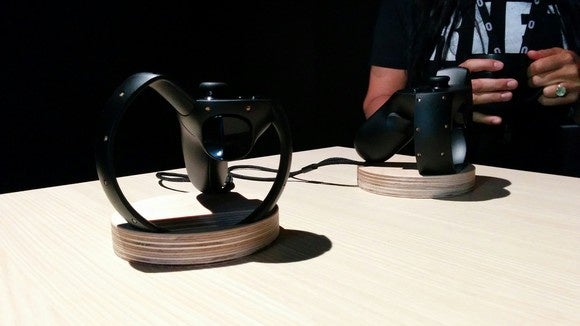 HAYDEN DINGMAN/
Ultimately we see different vectors for input. If you want a third-person gaming experience, the Xbox controller right now is better than Touch. It's more ergonomic, it's more comfortable, it sits in your lap. And you just know it. It's an extension of you.
On the other hand, you can't reach out and use a lightsaber or use the Force with a gamepad. You need Touch. This is why we see these different vectors for input and why we have different devices for different experiences. I think we'll see in Generation 2 where this all lands, both with us and with everyone else doing development.
It's not a perfect recipe, by the way. Your question still stands. "Okay, but are Touch developers going to be able to make awesome amounts of money when it launches?" Probably not. It's going to be a slower road. But I think we'll see adoption much faster because of all those different pieces I just outlined.
VR is very hard to explain and sell to people who haven't tried it. What are you doing to combat that? And do you worry that because the Xbox is your default control scheme, that that alienates people who aren't hardcore gaming fans? Whereas Touch might be more intuitive?
NM: Yes. I think Touch is a step in the right direction, definitely. We don't want the gamepad to alienate folks. And we're looking at other ways to help with that.
Previous Page 1 2 3 4 Next Page