Oculus's Nate Mitchell on Valve vs. Rift, Touch controller vs. Xbox gamepad, and more
Oculus VR's VP of product explains why the Rift headset will ship with an Xbox 360 gamepad, but not the Oculus Touch VR controller.
NM: Sitting is still, we think, the most common thing. My personal opinion: Most people are going to want to play VR games for long periods of time, and they're going to want to chill out and sit down. There are going to be a set of awesome standing experiences that'll be fun. People are going to want to play those too I'm sure. But in terms of the number of people who will play your game and enjoy it, it's far reduced when you move to something like "Okay, I want to track this whole room and have a standing experience that requires a 12 by 12 space."

The latest iteration of the Rift's position-tracking sensor.
What we're trying to do right now is make developers successful. If developers aren't successful it means less games which means VR doesn't go anywhere. So we want a consistent spec, an Xbox controller in the box, you can target seated or standing. Driving towards a consistent set of standards for VR at least in the case of the Rift.
But when you talk standards, the other problem is right off the bat you've divided your user base by saying everyone has an Xbox One controller but some people might have this cool Touch controller. If I'm a developer, why am I going to limit myself to people who have a Touch controller?
NM: I'd say we haven't split it because everyone has an Xbox controller. There's zero input fragmentation there. That's why we bundled the Xbox controller because we wanted, if you and I make a game and we target a gamepad but there's no gamepad in the box then we have serious input fragmentation because everyone's buying an accessory to play our game.
But on the other hand, if I'm a developer who thinks Touch looks cool why would I want to develop for it if I know only 1/5 of the Rift population has one, for instance? It's like a Kinect game...
NM: You're 100 percent right. That's one of the reasons we're selling it as an add-on instead of putting it in the box-it is new, it is more expensive, and developers haven't started building content on it really. Some of the experiences we have here have been in development for two or three years, and developers are just getting their hands on motion controls. Very few developers have their hands on the Touch to date.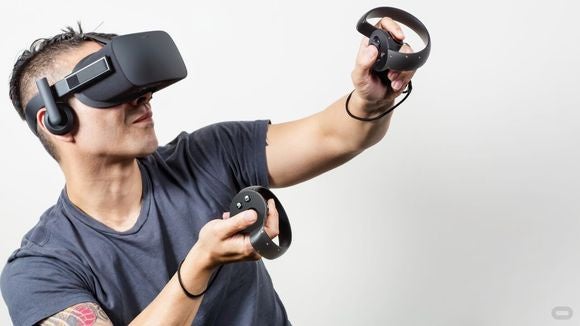 Oculus Touch may make you look goofy, but the hardware is mesmerizing...as long as developers build experiences for it.
Given all that, we want Touch to be this awesome add-on you can buy and it unlocks all these new experiences, but it's not necessarily required. You don't have to target Touch to make a great VR game.
Previous Page 1 2 3 4 Next Page