Oculus Rift VR headset review: The magical, yet unfinished birth of virtual reality
Virtual reality is finally here.


You'll find this bit of walled garden goodness buried in an options menu.
It's a mess, and it's a mess I haven't managed to experiment with during the pre-launch review window because, for instance, there are no consumer Rift-ready demos on Oculus Share for me to try and sideload. But it's a bit frustrating after the easy democracy and openness of the last three years to see the consumer Rift so locked down from the get-go.
As for the games that are on the store, Oculus has undoubtedly built a solid launch lineup—easily on par with your average console launch. I've detailed specific Oculus Rift launch software in-depth here, but there's something to please everyone. A handful of first-person games, a bunch of third-person, a few tech demos, some apps, all of which do a spectacular job of immersing you inside virtual worlds once they're up and running.
But it's hard to know how things will look six months from now or a year from now, and harder still because many of the best VR experiences at the moment (Fantastic Contraption, Job Simulator, Dead and Buried) rely on the Oculus Touch controllers that are still months away from release.
Another sore spot: Some of the games take forever to load. I've waited upwards of a minute for Oculus's own Farlands to boot up, despite being forced to install it on my SSD. A minute when you're sitting with the Rift on, staring into the darkened void, might as well be an eternity.
Bottom line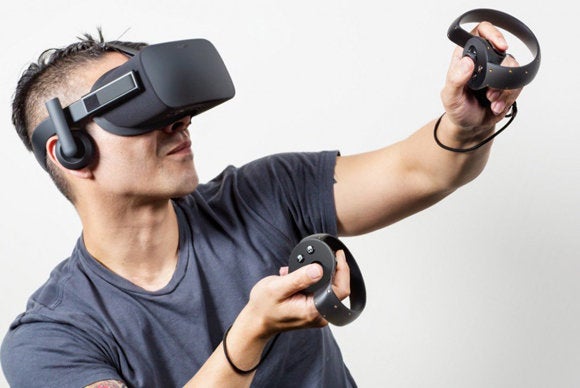 It's not often that we talk about ratings methodology, but I think it's important here. This is, in effect, the big virtual reality launch. Nothing like the Rift has graced the stage yet—and yet ratings are inherently only useful for comparative purpose.
What use is four stars in a vacuum? Is that four stars for hardware? Four stars for software? A combination of both?
It's not really a vacuum though. Remember what I said earlier: Three years of VR evolution behind closed doors has given us a pretty good idea of where the field is going. What's possible. What work still needs to be done.
So perhaps it's best to say our rating for the Oculus Rift is based on how well we think Oculus accomplished its stated goals: Creating a device that could (and pardon the VR buzzword here) instill a feeling of virtual "Presence" in the user, here in 2016. The Rift launch isn't perfect, nor does it feel finished given the conspicuous absence of Oculus's own Touch controllers. But I've still had moments this week where hardware concerns slipped away and I just enjoyed rocketing through space or standing in Iceland or relaxing on an alien planet. Not playing at doing those things, but actually doing them.
Previous Page 1 2 3 4 5 6 Next Page