Obituary: Windows XP passes away, leaving behind millions of mourning supporters
Windows XP, Microsoft's beloved seventh major operating system, has died at the hands of its creators. It was 12.
"For what we wanted, it's been absolutely perfect," my father said, "It's been very easy to use. We've had no problems with it. It's been very user friendly, from what I can see."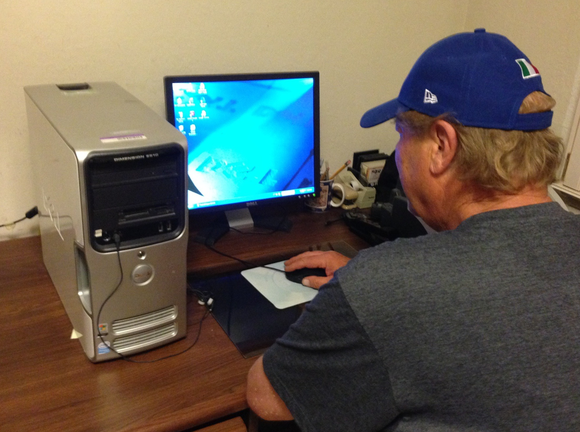 IMAGE: KATHY HACHMAN. The author's father, Bob Hachman, and the family's Windows XP PC.
My parents' use of Windows XP is fairly simple: some Web use, Excel spreadsheets, some basic financial planning. And as for security, well, I apparently failed as a geeky son.
"No, we just use it for very basic Internet use," my father told me, when I asked him if he had set up his machine for downloading patches and other updates. "I don't even know what a patch is." Ulp.
What Windows XP offered was a simple, yet broad package to help users accomplish the basic tasks they wanted when they decided to buy a PC: Surf the Web, use Office and some gaming software, and hook up a broad range of USB peripherals. Software developers also had but two major platforms to choose from—Windows and Mac—and mobile apps were years away. Once Mac users jumped to OS X, both Microsoft and Apple pulled their older browsers.
To date, however, both Google's Chrome and Mozilla's Firefox still support XP, allowing XP users to access the Web's modern sites. And my father still really has no reason to move. "Everything that's new—when it comes out, there are horror stories," he said.
Windows XP totaled 45 million lines of code, the work of hundreds of Microsoft programmers. It will be missed.
Previous Page 1 2 3