Obituary: Windows XP passes away, leaving behind millions of mourning supporters
Windows XP, Microsoft's beloved seventh major operating system, has died at the hands of its creators. It was 12.
On August 24, 2001, at the company's Redmond, Wash. campus, Microsoft handed out RTM copies of the new operating system to PC makers, who swooped off in helicopters bearing the Windows XP logo. While the first Windows XP devices were released on Sept. 24, the software was released to retailers on Oct. 25, accompanied by what some estimates put as a billion-dollar marketing campaign between Microsoft and its partners. That included a minute-long commercial set to Madonna's "Ray of Light"
Available in both Home and Professional versions, Windows XP would later be released in a 64-bit version, as well as a "Starter" edition for emerging markets. Special editions without Windows Media Player were later sold in Europe and Korea, after Microsoft was fined $784 million for exploiting its monopoly in operating systems to break into media players. Versions for so-called ULPCs (ultra low-cost PCs) and blade computers were also launched, as were specialized Media Center, server and embedded editions. That became significant, Rubin said, as many PCs simply lacked the available hardware to run Vista and successive operating systems.
But Windows XP quickly made friends with both consumers and professionals alike. Its signature "Bliss" desktop image of green, rolling hills became one of the most viewed photos in the world, and made photographer Chuck O'Rear the type of money paid for the famous shot of President Bill Clinton hugging Monica Lewinsky. And if users didn't like it, they could select from a number of other visual styles.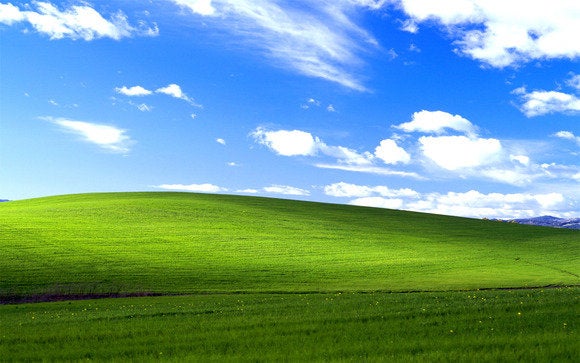 The iconic Windows XP "Bliss" desktop was viewed by millions.
Under the hood, XP grouped multiple windows of the new Internet Explorer 6 and other applications together, and offered a task-based focus that facilitated common functions like CD burning. Prefetching was added to speed up load times. Windows XP added Internet Firewall and Remote Desktop functionality—and Windows Product Activation, as well. Windows XP persisted through three service packs, adding support for USB 2.0 as well as numerous additional improvements.
But technical underpinnings aside, what Windows XP did was introduce a new generation of PC users to the Web. What many forget was that the first Windows XP hardware launched just two weeks after the horrific events of Sept. 11, 2001. The staggered launch—hardware first, then retail software sales—made the later release of Windows Vista seem stronger by comparison. And the richer, visual aesthetic came under fire, too, Rubin noted. But over time, users began to love their new OS.
The faithful speak
If Windows XP fans were all asked to speak about their favorite operating system, the line would be miles long. So in their place, I asked my father, Bob Hachman—a retired civil engineer who was dragged kicking and screaming into a world of ATM cards and pagers, and now smartphones—to speak for the majority. (Ian Paul asked other members of the Windows XP faithful for their reflections.)