Nvidia unveils its all-new GeForce GTX 980 and GTX 970 graphics processors
The new GPUs are faster, consume less power, and promise to make games more realistic.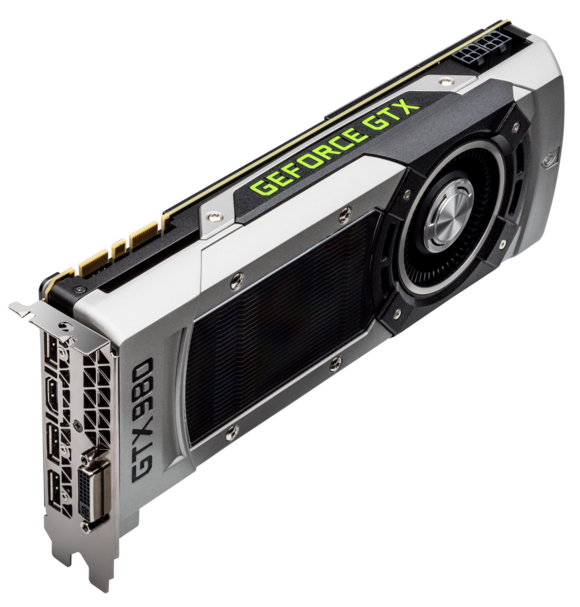 Nvidia CEO Jen-Hsun Huang loves a spectacle. So while you're reading this sentence, the GPU-manufacturer's founder is regaling thousands of gamers at a 24-hour gaming event the company is sponsoring in Los Angeles with the announcement of Nvidia's latest graphics processor, code-named "Big Maxwell."
Despite Nvidia's draconian efforts to prevent a recurrence of the leaks that presaged the announcement of its Shield Tablet, details of the new GPUs have been dripping into the Interwebs for several weeks. Here's the official information: The new GPU will initially be available in two SKUs, the $329 GeForce GTX 970 and the $549 GeForce GTX 980. The GTX 970 has 1664 processor cores running at a base frequency of 1050MHz (boost clock of 1178MHz), while the beefier GTX 980 has 2048 cores running at 1126MHz (boost clock of 1216MHz). The GTX 970 and the GTX 980 both have a 256-bit interface to 4GB of GDDR5 memory running at an effective speed of 7Gbps.
The mounting brackets on cards following Nvidia's reference design will have three dual-link DVI connectors, one DisplayPort 1.2 interface, and one HDMI 2.0 port. HDMI 2.0 support is particularly important because it supports 4K resolution at a refresh rate of 60Hz (the older HDMI 1.4b standard is limited to a refresh rate of just 30Hz, which is fine for movies, but terrible for games).
Four new features
In addition to making games run faster--the key promise behind every new GPU--Nvidia announced four new features that promise to make games look more realistic: Dynamic Super Resolution, Multi-Frame-Sampled Anti-aliasing (MFAA), Voxel Global Illumination, and VR Direct. Here's a brief overview of those technologies.
Dynamic Super Resolution, according to Nvidia, enables the new GPUs to deliver 4K-quality graphics on a 1080p display. The processor effectively renders 4K resolution in the GPU's frame buffer, and then applies a Gaussian filter to downsample the image to 1080p when it's output to the monitor. This promises to increase visual fidelity without taking a hit in frame rate. The feature is enabled by default in Nvidia's GeForce Experience utility, and the end user may increase the resolution as high as 5K if desired. Scott Herkelman, general manager of Nvidia's GeForce business unit, demoed the effect for me at a briefing on Tuesday, and it is impressive.
Aliasing describes the visual distortion that occurs when a GPU renders an image. In the most common examples, non-square images can have jagged edges, and moire can spoil the detail in intricate patterns. Anti-aliasing, obviously, is a means of coping with this phenomenon, and multi-sample anti-aliasing (MSAA) is the most effective technique.