Nexus 5X review: A solid, no-frills, pure Android experience at an affordable price
This is the upgrade Nexus 5 fans have been waiting for.
The Nexus 5X offers no removable battery nor SD slot for expandable storage. That's a bummer, but it's par for the course with Nexus phones now. Fortunately, the battery is not likely to be a problem. The 2700 mAh battery is quite beefy for a 5.2-inch phone under $400. Tack on the new Doze feature of Android 6.0, which puts your phone into a deeper sleep state when you're not using it, and you get some killer battery life.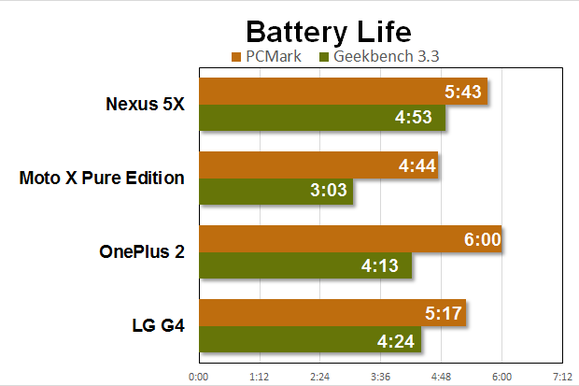 Battery life benchmarks are quite good, but real-world battery life is even better. Click on image to enlarge.
Our PCMark and Geekbench battery tests ran for 5 hours 43 minutes and 4 hours 53 minutes, respectively. Those are good (but not amazing) numbers, particularly for such an inexpensive phone. In real-world use, the situation was better. I went all day with typical use, from 8 in the morning to 10 at night, and still had 20 percent remaining. I left it unplugged overnight and woke up to find the battery drained only 6 percent.


The included USB-C charger tops off the phone very quickly.
The new Nexus phones feature USB Type-C plugs, and come with special USB-C chargers. They'll quick-charge when using the included charger, and charging speeds are impressive. I went from dead to half-charged in about 40 minutes, and a full charge took only an hour and a half. Note that the fast-charging tech in these phones is not compatible with Qualcomm's Quick Charge nor Samsung's technology. I tried about eight different chargers of various makes, and they all worked, but the only one that would produce the "charging rapidly" text on the lock screen was Google's own included charger.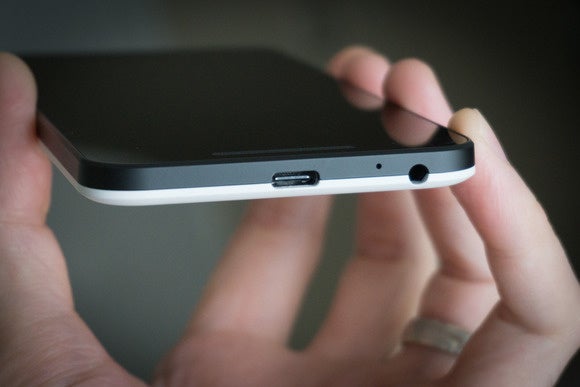 The move to USB-C will be painful for those who have invested heavily in micro USB cables and quick chargers. Credit: Jason Cross
It's unfortunate that the phone doesn't support wireless charging, though. The Nexus 6P can blame its lack of support on its metal body, but the 5X doesn't really have an excuse. It's about the only feature I really miss on this phone.
An affordable Nexus with a good camera?
No Nexus phone has ever had a good camera. Some were passable for their time, others were a disappointment. But never have you been able to say, "the latest Nexus has a really good camera."
Until now.
The Neuxs 5X and 6P share similar rear-facing cameras. The 12 megapixel sensor with huge 1.55 micron pixels and f/2.0 lens are the same, but the image processing differs slightly. In the case of the 5X, the burst-shooting mode is absent and the slo-mo video mode is limited to 120fps and 720p resolution. They both have dual-tone rear flashes and laser autofocus. Both phones take fantastic photos with the rear camera. No, really!
Previous Page 1 2 3 4 5 Next Page