Nexus 5X or Nexus 6P: Which one should you buy?
It's the toughest dilemma Android fans have faced in ages, but we can help you choose one of Google's great new Nexus phones.

Instant GIFs are fun.
The Nexus 6P offers a special burst mode that can turn a series of quickly-shot images into a ready-to-share animated GIF. It's not a "must have" feature, but it's nice to have handy if you like to have fun with your social media postings. The 6P also takes slow motion video at 120fps and 240fps, compared to the 5X's single-speed slow motion option, which only shoots at 120fps.
The only other advantage the 6P has over the 5X is that it features always-on electronic image stabilization. It's not optical image stabilization (OIS), which both devices lack, but it does help cut down on the shakiness when you're shooting video.

The Nexus 5X is on the left, and the Nexus 6P is on the right.
The phones have different front-facing camera sensors. The Nexus 5X offers a 5-megapixel front-facing camera, while the Nexus 6P offers an 8-megapixel one. If you like higher-resolution selfies, then the 6P is a better choice. It's also better at capturing the white balance in the room. Anyway, none of that is noticeable once you compress an image to post it to Instagram.
Processing power and battery life
The Nexus 6P and Nexus 5X run on two of the latest Qualcomm Snapdragon processors. The 5X runs in line with LG G4 and Moto X Pure Edition with its Snapdragon 808 processor and 2GB of RAM, while the 6P is more apt to compete in the top-of-the-line space with its Snapdragon 810 processor and 3GB of RAM. Both phones are generally quick and snappy, though the 5X did suffer from infrequent interface sluggishness.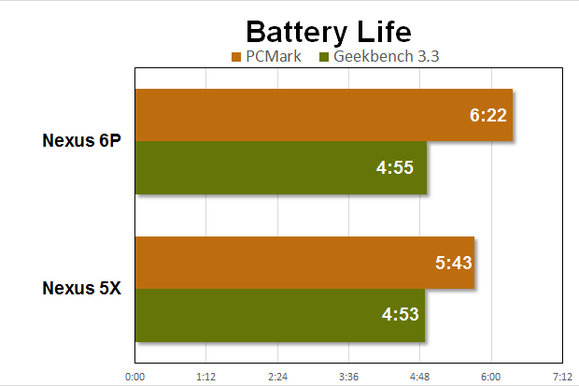 The Nexus 6P lasts longer than the Nexus 5X, but it also has a bigger battery pack. Click on image to enlarge.
In terms of everyday performance, the two devices differ most significantly when it comes to battery life. The 5X features a 2700 mAh battery pack, which is quite beefy for a 5.2-inch device under $400. In our PCMark and Geekbench battery testing, the phone ran for 5 hours 43 minutes and 4 hours 53 minutes, respectively. Real world performance was much better, but when you compare that to the Nexus 6P's 3450 mAh battery pack, which outlasted most other flagships in its price range, you might want to consider forking over the extra money for the bigger device. Android 6.0's Doze mode certainly helps out with both devices, but that only kicks in when either device has been left untouched and unmoved for a while.
Previous Page 1 2 3 4 Next Page