New Windows 8 PCs use touchscreens, hybrid designs and Haswell to capture attention
Vendors are trying to innovate their way out of the PC doldrums. Let's look at the curiosities they've created.
But even if the Samsung Ativ Book 9 Plus ends up costing an arm and a leg, Lenovo's new IdeaPads will offer touch capability at more affordable prices. The IdeaPad S210 Touch, for instance, will start at $429 and include an 11.6-inch HD touchscreen display.

LENOVO. The IdeaPad S210 Touch has an 11.6-inch touch display and starts at $429.
Tablets and hybrids continue to proliferate
The tablet/hybrid space remains fertile ground for innovation. The Lenovo Miix, as its name (which is not a typo) suggests, is designed to be versatile. It uses an Intel Atom dual-core processor and has a 10.1-inch screen with a 1366-by-768-pixel resolution. You can buy a detachable folio case with a built-in keyboard. It'll cost $500 to start and is supposed to last ten hours on a full charge.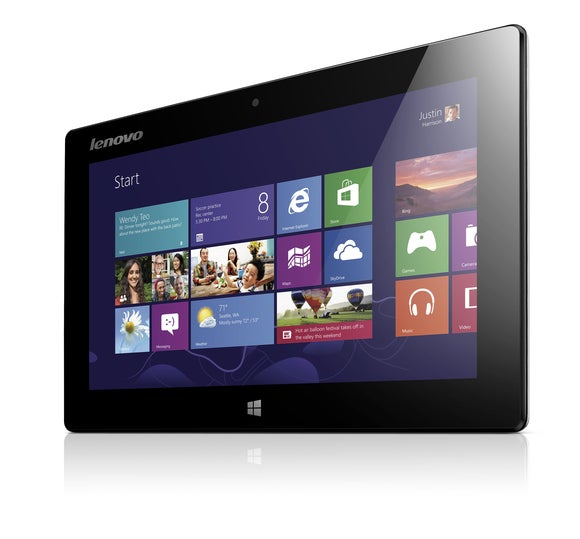 MICHAEL KAN. The Lenovo Miix is a full Windows 8 tablet with a 10-hour battery and an optional keyboard, starting at just $500.
The Samsung Ativ Tab 3 is a Windows tablet designed to make iPad users pause. It's bigger, with a 10.1-inch display, compared to the iPad's 9.7-inch one. It's thinner, at just 0.32 inches thick compared to the iPad's 0.37 inches. And finally, it's lighter, at 1.21 pounds compared to the iPad's 1.44 to 1.46 pounds. You can quibble over all the other specs—the iPad's Retina display remains superior, for instance—but still, the gauntlet has been thrown.
Android, the Windows PC's newest frenemy
At the recent Computex show in Taipei, PCs were overshadowed by mobile and Android devices. Acer even showed a PC-sized Android prototype that rattled our perception of what a PC could be.

MARTYN WILLIAMS. Acer's PC-sized Android system at Computex in Taipei was seen as a threat to Windows PCs.
The Samsung Ativ Q brings the two supposed adversaries together. This 13-inch tablet-laptop hybrid comes with the same superhigh resolution of 3200 by 1800 pixels as the Ativ Book 9 Plus Ultrabook. Similar in design to Acer's Aspire R7, the Ativ Q's screen can prop up like a laptop and tilt back on a raised hinge. And... it comes with both Windows 8 and Android 4.2
The Ativ Q is an odd duck, to be sure. And the breadth of its innovation—or weirdness?—tells us something about the conversations vendors are having in their strategy sessions. "It indicates PC manufacturers are still in exploration-mode, looking for that silver bullet to turn around PC sales," analyst Moorhead says. "For Windows 8, it indicates what most in the industry already know: Windows 8 lacks the right apps."