New Windows 10 TP build adds Windows Phone Action Center
Build 9860 of Windows 10 adds new notifications capabilities via the Action Center, as well as the ability to sign up for more frequent build updates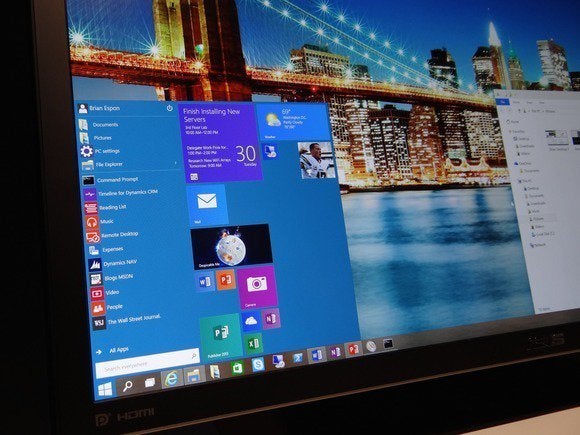 Windows 10 Technical Preview testers are getting a new build of the OS with almost 7,000 changes, including the addition of the Action Center console already available in Windows Phone.
For people using two monitors, the new build, number 9860, also brings a keyboard shortcut to move active apps from one display to the other. Microsoft has also incorporated an animation to indicate to users when they are successfully switching desktop interfaces.
This is the first update for Windows 10 Technical Preview, which was released about three weeks ago as build 9841. Most of the changes in this new build will be invisible to testers, because they are improvements and bug fixes.
This first implementation of the Action Center in Windows 10 features basic notifications, and the user interface isn't very polished. "You'll see notifications from the system and apps -- from new emails and invites to IMs, Facebook posts and more -- all in one place, so you don't miss a thing. Click on the new Action Center icon in the notification area of your taskbar to check it out," wrote Gabe Aul, leader of the Data & Fundamentals Team in Microsoft's Operating Systems Group (OSG), in a blog post.
Testers who signed up for the Windows Insider Program will get the new build via Windows Update. Those who can't wait for it to be automatically delivered can get it manually by going to their computers' PC Settings menu, clicking on Update and Recovery, choosing Preview Builds and clicking the Check Now button.
In that Preview Builds screen, they'll now find an option to establish how quickly new Windows 10 Technical Preview builds are downloaded and installed on their PCs. The "fast" option delivers new builds on the same day they become available. The "slow" option delays the delivery, although the blog post doesn't say by how much.
Build 9860 will be between 2GB and 2.74GB, depending on CPU architecture and language, and after it's finished downloading, the PC will install it and reboot, but the reboot will be longer than normal, according to Aul.
After logging in, users will have to go through the "installing your apps" wizard, and in the background the system will rebuild its search index and sync with OneDrive. "This should stabilize within the first couple hours of use," he wrote.
The new build will have known bugs and issues, including user interface design regressions necessary to put the finishing touches on certain design elements. "For example in this build we know that it's harder to join a Wi-Fi network. We'll make changes to fix that later," Aul wrote.