New updates streamline the Mail, Calendar and People apps in Windows 8
Disappointed by the usability of Windows 8's preinstalled People, Calendar, and Mail apps? A new series of updates aims to curb concerns and make those apps much more streamlined than before.
The improvements carry over to your main inbox, where you'll find new folder management options in the options bar, along with dedicated Junk and Print buttons. (No more mucking with the Charms bar to print, yay!) Fresh filtering options allow you to peruse all your messages or just unread missives, and the Mail app update also adds the ability to search for mail on connected servers--not just your local machine.
All in all, the changes found in the update are very welcome indeed, and should make using Windows 8's Mail app a much more viable day-to-day option moving forward.
Calendar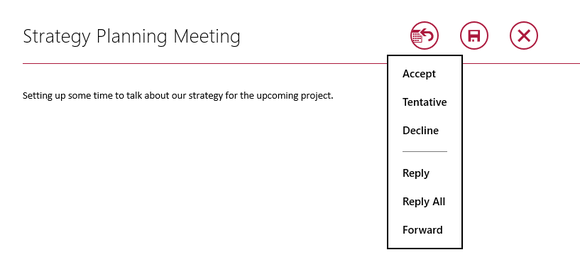 Compared to the cornucopia of changes in the Mail app, the Windows 8 Calendar update seems downright modest. One of the more appreciated changes is purely aesthetic: Aul and his team are ditching the Calendar app's drab grey and green design in exchange for a snappier red-on-white presentation. The alteration seems minor, but it's a lot easier on the eyes--a blessing if you spend all day hopping into your calendar, as many professionals do.
Speaking of professionals, the Calendar update also adds a new "work week" view that shows your Monday through Friday schedule. And when you're in a weekly or daily view, Calendar now shows the current time, as well. Exchange users get another little gift in Calendar, too, where you'll be able to check the availability of meeting attendees and potential meeting attendees using a new Scheduling Assistant.
On the more nuts-and-bolts side of things, you'll find new recurring event options--including the ability to add an end date--as well as new tools that allow you to forward meeting invitations or email all the attendees in a meeting.
People
Last, and somewhat least, comes the Windows 8 People app.
The biggest of the incremental changes introduced in the People update once again involves Exchange users, who will now see more detailed contact information--such as the office room number--of their coworkers.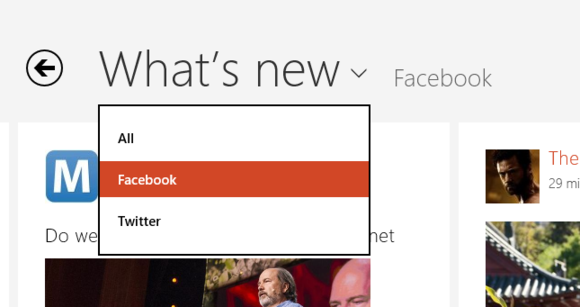 Other than that, the "What's New" social media feed now includes an option to filter by network at the top of the screen. (Network filtering options existed previously, but were buried in the options bar.) The update also allows you to post directly on the walls of your Facebook friends--a small tweak, but a notable one given the lack of an official Facebook app in the Windows Store.
A small step, a giant leap
These updates--especially the Mail update--show that Microsoft is taking its commitment to improving and streamlining Windows 8's core apps very seriously. Mail, Calendar, and People still aren't quite perfect, but if the rumored swath of Windows Blue updates achieve only half as much success as the new Mail update, the future's looking much brighter for Windows users. Slow and steady can win this race. Now about that POP mail support.