New earbuds give you super-hearing
Ready for hearable computing? Startups are rewriting all the rules for what earbuds can do. You heard it here first, folks.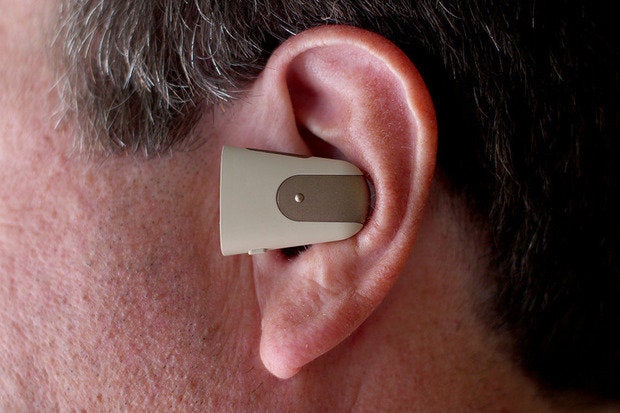 The SoundHawk listening device.
Listen to this: The world of earbuds is about to be transformed by startups whose products let you customize what you hear.
Instead of earbuds, which typically deliver music and voice sounds through a wire, and hearing aids, which boost certain frequencies (lost to the elderly who listened to loud music through earbuds in their misspent youths), the new hearables -- wearable devices that live in your ears -- enable the customization of environmental sound. You can cherry-pick which noises you want to hear better, and which you want silenced.
Here's what you'll hear.
Doppler Labs Here Active Listening System
Doppler Labs' Here Active Listening earbuds run the sound in your environment through digital processing, then play it back to you almost instantly. That gives you the ability to make changes to what you hear using the company's app. You can essentially customize real-time environmental sounds.
At a concert, you can tune out the crowd to focus on the music. In an airplane, you can tune out the crying baby and tune in the conversation you're having. (That's right: The app actually has a "Reduce Baby" button.)
You can equalize live music, add effects, turn up the bass or turn it down so you can hear your conversation.
The Here Active Listening System is a Kickstarter project, and the earbuds will start shipping any day now, for $199 per pair, according to Doppler Labs.
The Dash
The Dash, a biometric headphone system from Bragi, works as three kinds of devices in one. First, it's a set of Bluetooth earbuds for streaming music wirelessly from a smartphone. Second, the earbuds have 4GB of storage and can play music loaded into their memory chips for listening without a phone. Finally, the earbuds function as a "quantified self" fitness tracking system for measuring heart rate, oxygen saturation and energy spent, as well as running pace and distance.
You control The Dash with a tiny touchpad and use gestures made up of sliding motions and taps.
While listening to music, you can turn environmental noise on or off. (This is more advanced than noise-canceling headphones, which only reduce the volume of white noise.)
The Dash earbuds are expected to start shipping next month, at $299.
Soundhawk
The Soundhawk "Smart Listening System" is designed to let you customize what you hear. It includes a wireless earpiece, a wireless microphone and a charging case that work in conjunction with a mobile app.
For starters, the Soundhawk system can wirelessly stream audio from your phone, and you can use that capability for phone calls, listening to music or other purposes. You can also stream from the TV.