New Chromebooks and Chromebit stick start at US$100 thanks to lower-power chips
Google and its partners plan 10 new Chrome OS devices over the next two months. Meet the big three: new $149 Chromebooks from Haier and Hisense, plus the Chromebit stick from Asus.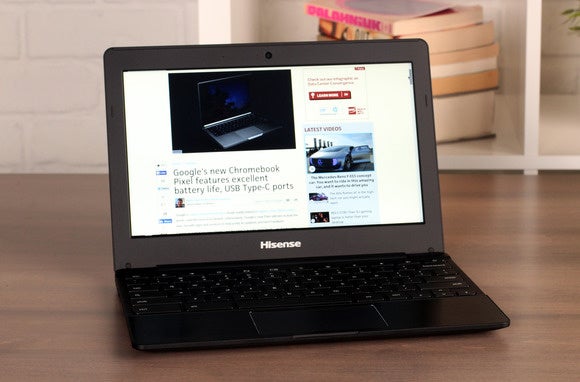 After a steady two-year drizzle of Chromebook releases, Google and its partners are preparing a flood of new hardware to sway consumers away from cheap Windows laptops. Chromebooks from HiSense and Haier go on sale today at $149 each, followed by an Asus convertible in the coming months.
And if a Chromebook itself is too big and bulky, then you might consider the Asus Chromebit, a Chromebook-on-a-stick that will cost less than $100. In all, 10 Chrome products will launch over the next two months, Google executives said. Besides the HiSense and Haier laptops highlighted here, you'll see models from Acer, AOPEN, Asus, Dell, HP, Lenovo and LG ranging from $149 to $499.
"We're very happy in that we've played a part in moving computing a little bit further," said Caesar Sengupta, the vice president of product management for Google.
The secret behind these low-cost Chromebooks is the RK3288, a very inexpensive ARM processor from Rockchip, a Chinese chip maker that's little known outside of industry circles.
The Rockchip RK3288 is one of the first chips based on the quad-core ARM Cortex-A17 architecture, which was launched in mid-2014. Because the chip can draw as little as 3 watts of power, the Chromebooks based on it are designed without fans, and can last all day on a single charge--up to 13 hours in the Asus Chromebook Flip, according to Gayathri Rajan, director of product management at Google.
The story behind the story: The essential Chromebook concept relies on the premise that a huge cross-section of users will be happy with "good enough" computing, especially at rock-bottom prices. The systems aren't powerful enough to play hardcore games and Windows applications, but they're "good enough" to browse the web and tap into Google's extensive suite of cloud services--Gmail, Drive, Maps, and so on.
However, you could argue that with fewer than 25 million Chromebook sales last year (opposed to more than 302 million PC sales), Google still has work to do. And thus today's announcement. Google and its partners are lowering prices further while chasing the one commodity laptop users value most: battery life.
At their heart, they're all the same
The basic hardware specs of the Asus Chromebook Flip, the two Chromebooks from Haier and HiSense, and the Chromebit Chromebook-on-a-stick are all nearly identical. You get the aforementioned Rockchip chip, 2GB of storage, and a 16GB SSD.
"Our general belief is that you can't get to lower-priced devices by just dropping specs," Sengupta said. "Users see through that. But if you keep the performance bar the same, but bring the price down, that's really how you need to go through it."