New Alienware laptops pack Thunderbolt 3 and prettier screens, but oddly lack Skylake
Latest gaming laptops will feature dynamic overclocking, new AMD GPU but oddly, no Skylake.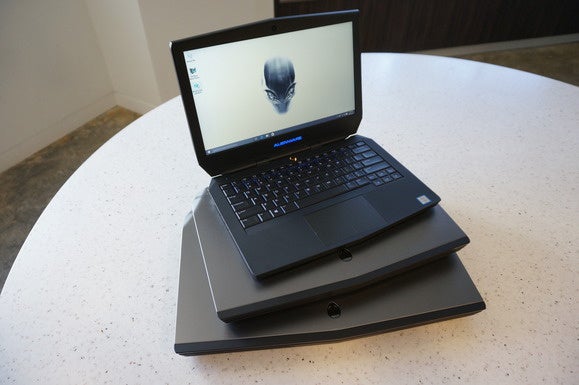 Alienware's refreshed laptops announced today at Pax Prime will feature better screens, Thunderbolt 3 and even a new AMD GPU but oddly won't feature Intel's latest CPU.
The company announced three refreshed laptops: Alienware 13, Alienware 15, and Alienware 17, with the numeral referring to the size of the screen.
Just last week the company announced the return of its monstrous Alienware 18 gaming laptop with two GeForce GTX 980m GPUs inside.
The Alienware 13 gets the option of an IGZO-based IPS panel with a resolution of up to 3200x1800 and a searing 400 nits of brightness. Its top GPU is a GeForce GTX 960m, and for compute power, it'll offer the option of dual-core "5th" gen Intel Broadwell CPUs. Units with the Core i7 will have the option of a higher density battery as well.
Alienware officials didn't disclose all of the details about it, but said it's a perk of being part of the Dell mothership which has made big investments in battery technology. The standard battery is 52 watt hours, with the higher density battery using the same amount of space but offering 62 watt hours.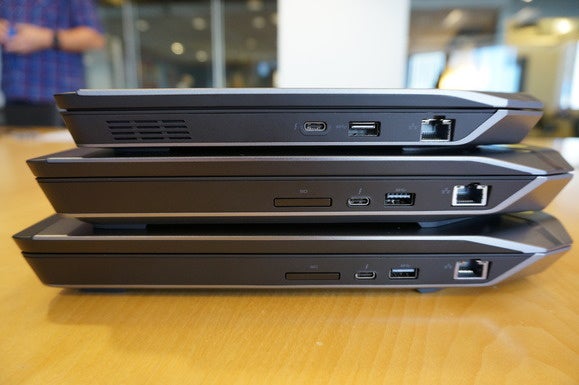 Alienware 13 rides on top, with the Alienware 15 and Alienware 17 below it. None, however, features Skylake CPUs--yet. Credit: Gordon Mah Ung
The Alienware 15 will offer graphical options ranging from a GeForce GTX 965m to a GeForce GTX 980m, as well as a new one: An AMD Radeon R9 M395m GPU. The Alienware 15 packs a dual-core Haswell CPU in the base configuration. Two other quad-core chips will be available—both Haswell.
The 17.3-inch, aptly named Alienware 17 will get a UHD 4K panel to go with its GeForce GTX 970m or GTX 980m graphics.
All three units will feature two things in common: Killer NIC's latest wireless and LAN, plus Thunderbolt 3 and USB-C connectors across all units. That means Alienware's laptops will have an edge over other USB-C laptops that have already come before it by supporting USB-C transfer rates plus support for Intel's Thunderbolt 3, which can hit 40Mbps.

Eat your heart out Apple MacBook 12. This Alienware has a USB-C connector that also supports DisplayPort and Thunderbolt 3. Alienware
The most noticeable omission is the lack of Intel's latest 6th-gen Skylake mobile CPU. Instead, Alienware's relying on a mix of 4th-gen and 5th-gen Intel CPUs. All three machines will offer something Alienware calls "Dynamic overclocking," however, which keeps the chips running at higher clock speeds than they otherwise would operate at.