Netgear's Nighthawk routers, range extenders supercharge your network with MU-MIMO
The networking company also announced retail availability of its Arlo Q indoor home security camera.

Netgear announced two new Nighthawk Wi-Fi range extenders at CES: the EX7300 (delivering throughput of up to 2.2Gbps), and the EX6400 (promising throughput of up to 1.9Gbps). Credit: Netgear
Powerline ethernet adapters
Netgear is announcing only two powerline products at this year's CES, with the $120 PowerLine WiFi 1000 being the more interesting of the two. It's a HomePlug AV2 model that Netgear says is capable of supporting gigabit throughput over powerlines. "500Mbps has been a race to the bottom," said Netgear product manager Oleg Fishel. "We see 500Mbps as a dying technology."
As with any powerline adapter, you plug one module into an electrical outlet near your router and then use an ethernet cable to connect it to your router. Plug the companion module into an outlet near the device you want to add to your network and connect it to the adapter.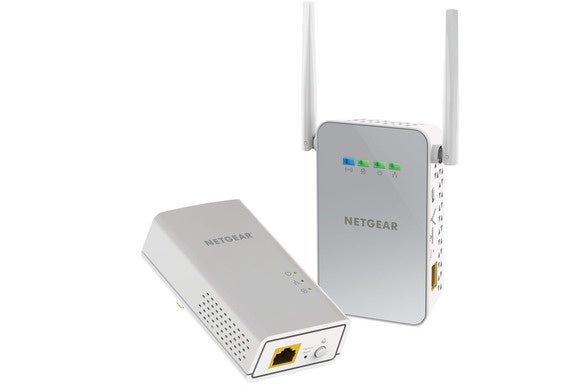 Netgear's PowerLine WiFi 1000 kit can support one wired client and several wireless devices via its 802.11ac Wi-Fi hotspot. Credit: Netgear
Unlike most powerline modules, however, the companion module can also function as an 802.11ac wireless access point. A set of LEDs on the companion module indicate the strength of the powerline connection, which removes some of the trial-and-error process from the setup (in our experience, powerline performance can vary widely from one outlet to the next, depending on the quality and condition of your home's electrical wiring). If you can make a good connection, this could be a higher-performing alternative to deploying the typical wireless range extender.
Netgear's other powerline adapter is much more conventional. The $70 PLW1000 is also HomePlug AV2 compliant; as such, it is capable of throughput of 500Mbps. But this model can service only wired clients and can't function as a wireless access point. Netgear says both adapter kits are available now.
In other Netgear news, the company announced that its previously announced Arlo Q indoor home security camera is now available for purchase.