Motorola's Moto G tees up for November 13 unveiling
The Moto X is getting a little brother in just a couple of weeks.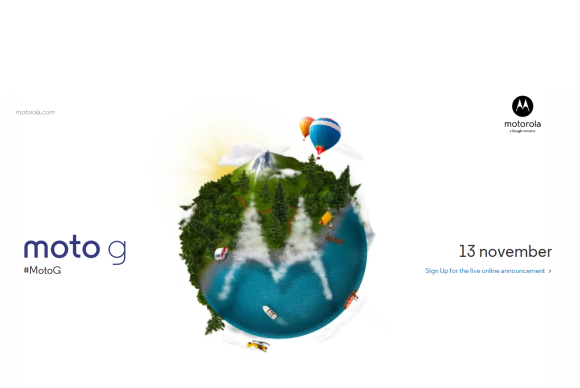 Google had a terrible time keeping the Nexus 5 a secret, and Google-owned Motorola hasn't fared much better with the upcoming Moto G--a new handset widely expected to be the budget-priced version of the Moto X. Rather than ignore the existence of the Moto G right up to the release date, Motorola 'fessed up to the phone on Monday morning and said the Moto G would debut during a press event on Wednesday, November 13.
Early G post
Just as Google was unveiling the Nexus 5 running Android 4.4 KitKat on October 31, Motorola mistakenly posted a new menu item on its site titled "Moto G," Droid Lisfe reported. As is typical of these Web-based goofs, the link on the menu item didn't go anywhere and the reference disappeared almost as quickly as it appeared. Later that same day, the infamous Evleaks--a prolific gadget rumor monger with a respectable track record--posted some purported information about the Moto G.
Based on the Evleaks tweet, the Moto G will come with a 4.7-inch screen with 720p resolution, 1.5 GHz quad-core Qualcomm Snapdragon S4 Pro processor, 8 megapixel camera, and an "LG-made" 1950mAh battery. For onboard storage, the Moto G will reportedly ship in 8GB and 16GB flavors. There was no mention of which version of Android the Moto G would come with.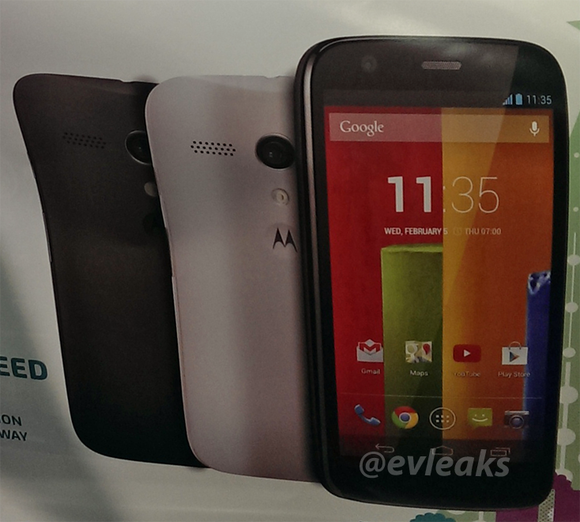 IMAGE: @EVLEAKS. A purported Moto G image leaked by the appropriately named @evleaks.
But those specs may not be entirely accurate, based on a second leak that included a purported Moto G promotional card destined for U.K.-based retailer Phones 4u, according to GSM Arena. The promo card says the Moto G will have a slightly smaller 720p display at 4.5 inches. The device would also have a 5MP camera instead of 8MP, as well as a 1.3MP front-facing camera. The promo card also lists a 1.2GHz quad-core Qualcomm processor and only shows an 8GB storage option.
The supposed Phones 4u promo card also showed the Moto G getting Android 4.3, Jelly Bean instead of 4.4. At least out of the box. Both rumored spec lists show a device that would have what it takes to run 4.4, so it's a good bet the Moto G, if it does come with 4.3, would get an update to 4.4 soon after release.
The GSM Arena leak didn't have any pricing details, but Evleaks claims the Moto G will be available for free with a new contract. The Moto G's big brother,the Moto X, recently dropped to $100 on contract.