Motorola shows off electronic tattoo and authentication pill at D11
Motorola debuted some experimental security technology that would allow users to access their devices via an electronic tattoo.
Google-owned Motorola has some big plans for replacing your online and device passwords that include taking a pill every morning and wearing a tattoo on your arm. The two experimental prototypes were showcased during the D11 technology conference by Motorola's head of advanced technology and projects group, Regina Dugan. Both concepts are meant as alternatives to using passwords, passcodes, picture passwords, and two-factor authentication as a means to access your smartphone, tablet, car, and even your front door.
The first project Dugan displayed was a simple electronic tattoo manufactured by Cambridge, Massachusetts-based company MC10. The small electronic tattoo uses material developed by a University of Illinois research team led by Dr. John A. Rogers. The material can stretch up to 200 percent larger than its original size and features an antenna and a handful of sensors to authenticate with your devices. "It may be true that ten to twenty year-olds don't want to wear a watch on their wrist," Dugan said, taking an obvious dig at the recent rumors surrounding an Apple smart watch. "But you can be sure that they'll be far more interested in wearing an electronic tattoo, if only to piss off their parents."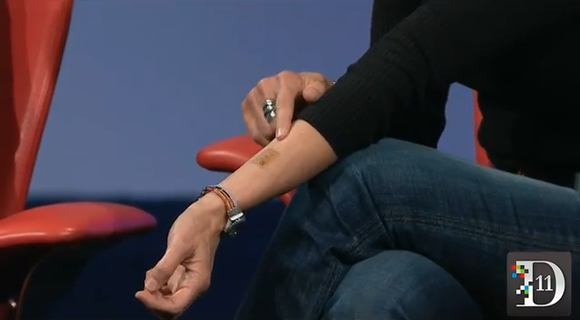 ALLTHINGSD.The electric tattoo showcased at the D11 conference.
The second project sounds like something straight out of Minority Report. Instead of entering passwords and secondary codes from a key fob all day, you could just take a vitamin authentication pill every morning. The pill features a small chip with one switch that uses your stomach acids to activate creating an 18-bit ECG-like signal inside your body. Dugan, who came to Google from the U.S. Defense Advanced Research Projects Agency (DARPA), likened taking the pill to having a super power. "My hands are like wires, my arms are like alligator clips," Dugan said. "When I touch my phone, my computer, my door, my car, I'm authenticated." The FDA-approved pill is produced by Proteus and currently used for medical applications such as detecting heart rate, physical activity, and resting state.
Don't be evil... please?
If it makes you queasy to think about wearing the mark of Google on your forearm or gulping down a Google-licious capsule every morning, you're not alone. During his interview with Dugan and Motorola CEO Dennis Woodside, AllThingsD's Walt Mossberg seemed a little taken aback. "Does Google now know everything I do and everywhere I go?" Mossberg said half-jokingly while holding the pill. "Because let's face it, we like you guys, but you're from Google." The search giant has a reputation for collecting too much data and has repeatedly landed in trouble for offenses such as snooping on open Wi-Fi networks and bypassing default privacy settings in browsers.