Motorola launches 3 new Android phones with 'amazing value'
U.S.-only 'Pure Edition' phone starts at US$400 unlocked.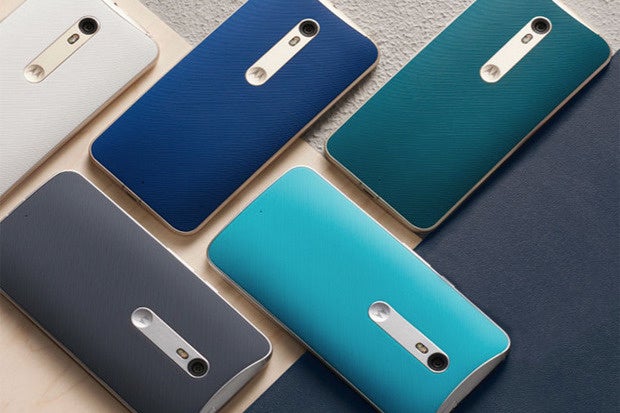 The Moto X Style comes in many colors. Credit: Motorola
Motorola announced three new Android 5.1.1 (Lollipop) phones on Tuesday, including a high-end model that will be sold this fall in the U.S. as the Moto X Style Pure Edition, starting at the low price of $400 unlocked.
Analysts said despite Motorola's pitch of offering new phones at relatively low prices but with high quality components, the company still faces tough competition from Apple and Samsung on the high end, and from dozens of small vendors that make low-priced smartphones, many of them based in China.
In the U.S. especially, the smartphone market is considered saturated. Any new phone faces difficulty standing out when buyers need to replace an older smartphone.
"In mature markets, anyone who wants a smartphone has one already, and unless they are tech-savvy people, what they already have is probably good enough. So do I really care about slightly better display resolution, more shell colors or better cameras?" asked Gartner analyst Tuong Huy Nguyen.
The $400 starting price puts the 5.7-in. display Moto X Style Pure Edition (called the Moto X Style outside the U.S.) well below unlocked prices of $650 to $800 for other high-end phones like the Apple iPhone 6 or the Samsung Galaxy S6.
That lower price comes with a series of advanced features, including super-fast battery charging (10 hours' charge in 15 minutes), a 21-megapixel rear camera and a 1.8 GHz Qualcomm Snapdragon 808 processor.
Such advances might not make much of a difference for Motorola, Nguyen said.
"People don't care for those kinds of things," he said. "There isn't anything that new or that different to the point where I'd want it as an average consumer. People will ask, 'What else can it do?' "
Motorola also touted a common LTE feature for the Pure Edition that would make it relatively easy to switch carriers among Verizon Wireless, AT&T, Sprint or T-Mobile with a different SIM card. Again, Nguyen was unconvinced that will matter.
"LTE Is just another tech acronym for most people, and how many people are willing to switch operators? People tend to pick one carrier whether they love it or not," Nguyen said.
The ultimate question for Motorola, now a part of China-based Lenovo, is whether the Pure Edition in the U.S. -- or its cousin the Moto X Style in other countries -- can give Lenovo the boost it needs in developed markets where smartphone saturation is high.
Motorola had just 1.3% of the global smartphone market at the end of 2014, before Lenovo's purchase was finalized. In the first quarter of 2015, Lenovo with Motorola had 5.6% of global smartphone sales, according to Gartner, putting it in third place behind Samsung in first, with 24% of the market, and Apple in second with 18%.