Moto 360 (2nd gen) review: The Android Wear watch to beat
Hardware refinements make this the watch the original Moto 360 should have been.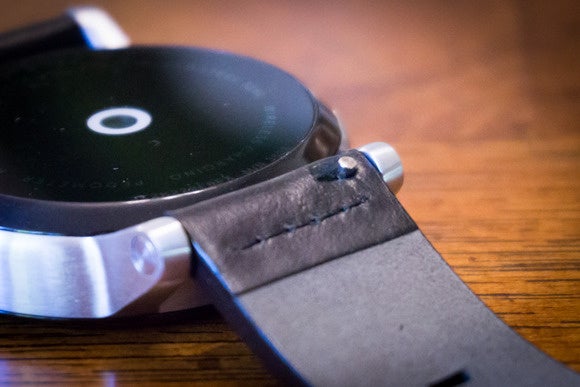 The bands are easier to swap out, thanks to traditional lugs on the body, and quick-release levers on the bands. Credit: Jason Cross
Generally speaking, the watch looks a lot better, but it's the high degree of customization that really makes it stand out.
On the Motorola site you can choose from one of those three sizes, in three colors: black, silver, or gold. (Women get rose gold instead of black.) Then you can pick whether you want the front bezel to be chamfered or to have a crosshatch "micro knurl" pattern, and you can pick any of the three colors for the bezel, independent of the case color. There are two leather bands and three metal link bands to choose from. And finally, you can pick a custom watch face to show at startup (though you'll probably browse around and pick a new one anyway).
All this customization isn't free. The 42mm and ladies' model starts at $299, while the larger 46mm version (with higher-res display and bigger battery) is $50 more. The gold case, knurled bezel, and metal bands can drive the price up to $449 at the high end. Still, the prices are reasonable for what you get.
Still a Moto 360, only better
The 2nd generation Moto 360 isn't a breakthrough device. Yes, the little "flat tire" cutout is still there at the bottom of the display, hiding the display electronics so the rest of the pixels can go all the way to the edge of the bezel. Yes, it still requires its little wireless charging stand. Over time, you'll come to appreciate it—taking off your watch and resting it on the stand is easier than snapping charge cables to the back, even magnetic ones Yes, this watch is still just standard Android Wear with a few extra watch faces and Moto Body fitness tracking.
But a year of refinements has been incredibly kind to Motorola's smartwatch. Google has dramatically improved the Android Wear OS, and Motorola its own software. The hardware looks more refined but still not too "bling-y", it's far more customizable, and the smaller sizes are just what men with slim wrists like me, and especially women, have been asking for.
When it comes to Android Wear watches, you're not going to find one much better than this for awhile. It's not that the new Moto 360 has any one standout feature that is wholly unique, it's that it does everything well. The display quality, performance, battery life, design, customizable options...it's all there. This is about as well-honed as this generation of technology is likely to get.