Most Americans support smart gun adoption, survey finds
56 percent of political conservatives would buy a smart gun.

Armatix last year attempted to introduce a .22 caliber semi-automatic pistol that prevented anyone but the wearer of a special watch with an RFID chip from firing it. Gun advocates protested gun stores attempting to sell it. Credit: Armatix
Nearly 60% of all Americans who'd be interested in purchasing a gun are willing to buy a smart gun or childproof gun -- one that only functions in the hands of an authorized user, a new survey has found.
The web-based survey of almost 4,000 people, conducted by the Johns Hopkins Bloomberg School of Public Health, found that 59% would buy a gun that used fingerprint detection or wireless technology to limit its use.
In addition to overall support, the survey found that four in 10 gun owners and 56% of political conservatives surveyed would be willing to buy a smart gun, "debunking the widely used argument by gun manufacturers and gun groups that there is no market for smart guns," according to a Johns Hopkins statement on the survey.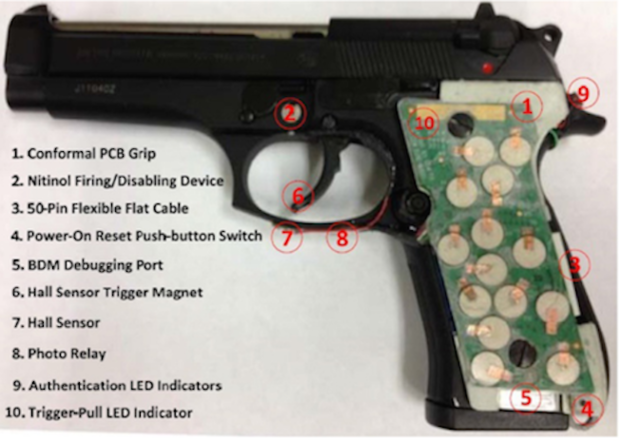 A 9mm Beretta semi-automatic pistol was used as the initial prototype for the New Jersey Institute of Technology's smart gun, which uses sensors to detect each gun owner's unique grip. Credit: NJIT
"The results of this study show that there is potentially a large commercial market for smart gun technology," Julia Wolfson, a Ph.D candidate in the Department of Health Policy and Management, said in a statement. "This has been one of the biggest arguments against smart guns, that people just don't want them. This research shows otherwise."
Earlier this month, in his State of the Union speech, President Obama spoke passionately about the need for greater gun control. Obama directed the Defense Department, the Justice Department and the Department of Homeland Security to conduct or sponsor research into gun safety technology, including smart gun technology.
The president also instructed the departments to "review the availability of smart gun technology on a regular basis, and to explore potential ways to further its use and development to more broadly improve gun safety."
Smart gun proponents, who've been developing the technology or lobbied the federal government in the past for funding, applauded the president's order, saying it's the only way to move the technology to market in the face of opposition by gun lobbying groups.
The Johns Hopkins survey showed a shift in public support for the technology.
The findings, published Jan. 21 in the American Journal of Public Health, appear to contrast sharply from earlier estimates derived from public polls.
Research from 2013, funded by the National Shooting Sports Foundation (NSSF), found only 4% of respondents would buy a smart gun, while 10% would be "somewhat likely" to buy one. Eighteen percent indicated they wouldn't likely buy one and a whopping 64% said they would not buy one.