MocaHeart monitors your blood pressure and heart condition via thumb scans
MocaCare's new gadget makes it simple to monitor your heart rate, blood pressure, and cardiovascular health.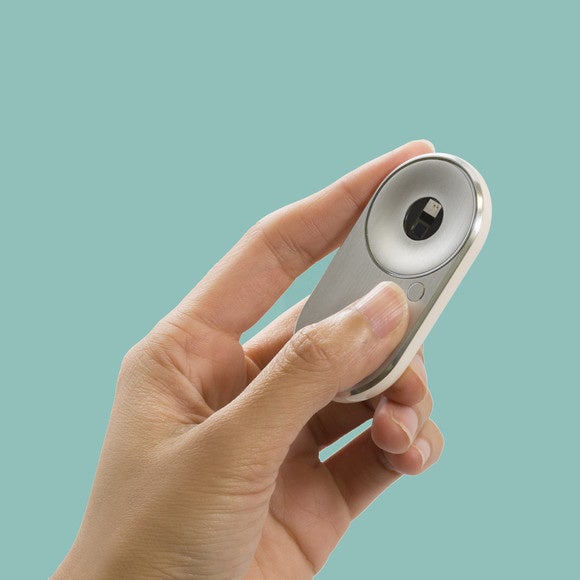 Checking your blood pressure will no longer necessarily require a visit to the doctor or an uncomfortable strap. The new MocaHeart tracker by MocaCare can monitor several heart conditions by simply scanning your thumbs and sending the data to your smartphone.
The MocaHeart uses thumb scans to measure your blood velocity, and takes the determined velocity to calculate your heart rate, blood oxygen levels, and blood pressure. MocaCare has developed the proprietary Moca Index to measure your blood pressure on a simple 1-5 scale (Low, Ideal, Raised, High, or Very High) as determined by your blood velocity. Typically the faster the blood travels through the blood vessels, the higher the blood pressure.
To track your heart conditions, simply press down on the MocaHeart for a few seconds. The device has its own iOS and Android app for visualizing the results and pinpoint any daily, weekly, monthly or annual trends and insights. You can also use the app to send your heart monitoring results to family, friends, or your doctor and keep them updated on your condition with an in-app messaging system. The app also sends alerts to remind you to conduct a thumb scan, and it can automatically take into consideration certain environmental factors, such as weather and location. MocaHeart is also compatible with HealthKit to automatically send and aggregate the health data to your iPhone.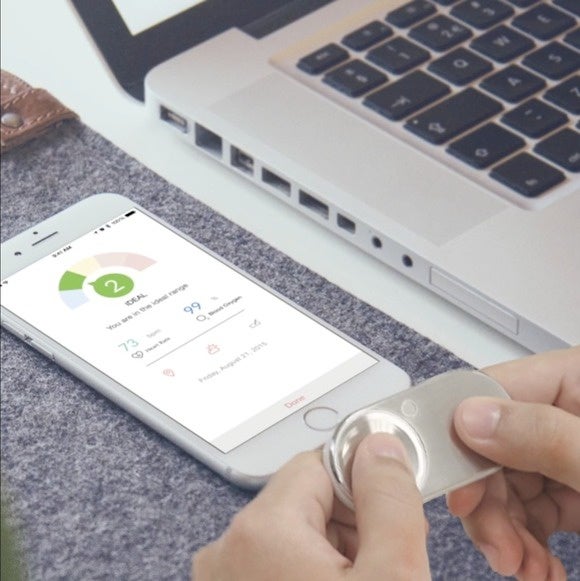 The MocaHeart device has an optical sensor and electrode, it's made from medical-grade stainless steel and biocompatible plastic, and has a built-in battery the company says lasts about 3 days and can be recharged via a micro-USB cable. The MocaHeart is available for purchase for $150.
MocaCare is unveiling the latest version of the MocaHeart device at CES 2016 in four new colors: pink, green, yellow, and platinum. In addition, the company is also launching two new accessories to integrate heart monitoring into your daily routine, including a $29 leather keychain and a $19 case for the iPhone 6 and 6s. Cases for Android phones are forthcoming.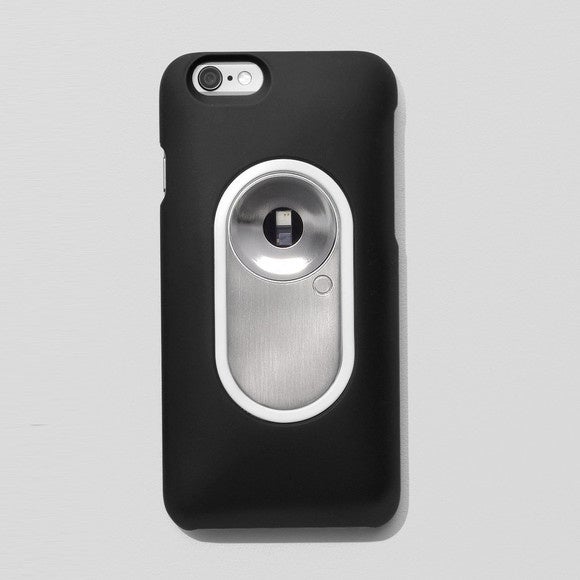 The MocaHeart and Moca Index were developed over the span of two years by a team of scientists, engineers, designers, researchers and physicians from Stanford, MIT and other universities. Because the MocaHeart is not a replacement for medical testing and it's not used to diagnose or treat medical conditions, it does not require FDA clearance. However the MocaCare team is looking to get FDA clearance to use the data collected by the MocaHeart in clinical trials.