Miracast vs. Chromecast: Hands-on with Microsoft's screen-sharing gizmos
Microsoft now has two ways for you to project content wirelessly from your Windows (or Android) phone and tablet: the Screen Sharing for Lumia Phones HD-10, and the Wireless Display Adapter. But Chromecast got here first.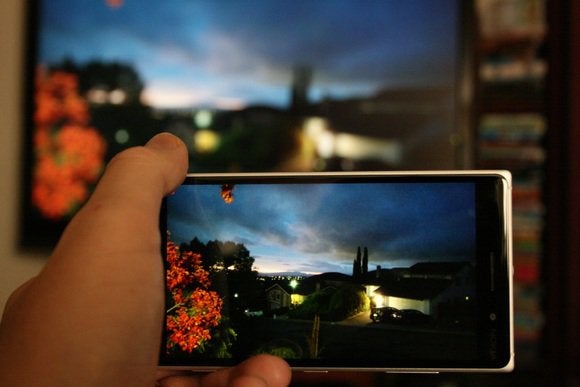 Most wireless technology is fast enough these days to deliver not just one, but several high-definition video streams. But the Miracast technology Microsoft included in devices that connect your phone and PC to your TV doesn't quite hold up under heavy load.
In the past few weeks, Microsoft announced two very different ways to bridge the last few feet between your connected devices and your television: the $100 Microsoft Screen Sharing for Lumia Phones HD-10, and the $60 Wireless Display Adapter. The first, to connect smartphones, was developed at Nokia. The other was independently developed at Microsoft, before the merger brought the two together.
They're two different approaches to the same problem: how to project your phone or tablet screen to a TV. Most PCs solve this problem via an HDMI output that allows the TV to act as a second display. Microsoft's solutions, however, use Miracast, which taps a direct Wi-Fi connection between the two devices, rather than an intermediary router. (Note that you don't need a Windows Phone or tablet to connect to either device. Devices running Android 4.2.1 and above will also connect.)
That sounds like a superior solution compared to Chromecast, Google's $35 streaming stick, which a user controls via his or her smartphone. But I'm not sure it is.
The difference is in the technology: The Chromecast connects to your phone or tablet, then downloads a stream from Netflix by itself. With Microsoft's solutions, any data they receive is fed via your phones or tablets--fine for projecting photos or documents. That extra hop those devices require, however, when streaming video from the Internet--from Netflix, say, through your phone to the Miracast device--seems to make all the difference. There's just enough latency to be annoying.
Microsoft's HD-10, marginally better
Compared to the Wireless Display Adapter, the HD-10 seems a bit over-engineered: nifty, but unnecessary. It's a round, white, hockey puck, with an HDMI connection and power cord in the back. But what's unique about it is the detachable, NFC "coaster" that sits atop it. If you turn on your phone's NFC connection and tap it to the top of the coaster, it authenticates it to the device and allows it to connect.
(Tapping a compatible NFC-equipped Windows Phone, such as the Lumia 830, to the HD-10 automatically connects the two; Android devices won't be able to use this method. Instead, you'll need to hunt down the appropriate menu. Try Settings>Display>Wireless Display, or on Samsung Galaxy Phones, try Connections > Screen Mirroring.)
Pairing your phone to the HD-10 is like pairing a Bluetooth device: Open NFC, tap the phone, and accept the pro-offered wireless connection. When connected, your television mirrors your smartphone display--which, chances are, will be oriented vertically. Your phone's vertically oriented display will look a bit odd until you rotate it.