Microsoft's Lumia Camera app looks like a big improvement for Lumia phones
Microsoft showed off Lumia Camera in advance of the Windows 10 consumer reveal. The app's quick-shooting, creative features look excellent.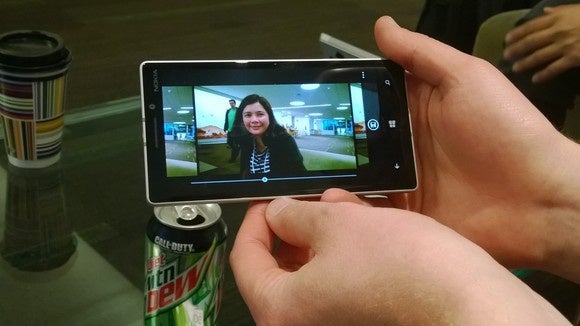 A Microsoft spokeswoman began making sounds of protest when we snapped a few seconds of high-definition video using a feature of Microsoft's new Lumia Camera app, Moment Capture.
She didn't need to, because what the camera captured was a perfectly lovely still image. And that's the point of Microsoft's new app.
On Tuesday night, just before Microsoft was scheduled to lift the curtain on its new consumer-oriented Windows 10 preview, Microsoft's Sami Niemi, the man overseeing Microsoft's photography experience, demoed the new Lumia Camera app. Microsoft is shipping Lumia Camera with the Lumia 435 and Lumia 532, but it'll eventually arrive on the Lumia 1520, Icon, 830 and 930 handsets as well.
Lumia Camera is often thought of in the same breath as Lumia Denim, a firmware and OS update that brings phones in line with Windows 8.1 Update. But Lumia Camera won't be made available to every phone, Niemi said, in part because of the limitations of the hardware.
Lumia Camera is made up of four major improvements: quicker app load and shot-to-shot times; Moment Capture, which mines video for still images; Rich Capture, which adds some nifty post-processing; and general improvements in low-light photography.
Why this matters: Apple designed an excellent camera into the iPhone, and Samsung's cameras--though chock-full of frankly unnecessary features in some models--are no slouches, either. Lumia's camera hardware, however, has had a well-deserved reputation for image quality, complete with manual camera controls that allow you to control exposure, shutter speed, and more. But they're also clunky. In a world where imaging "improvements" include filters and stickers, Lumia Camera provides practical improvements to the Lumia line.
Four solid upgrades
But let's start with the obvious: On phones like the gigantic Lumia 1520, actually opening the camera app and taking the first photo can take several seconds--a lifetime at a sporting event or capturing a baby's first steps. Lumia Camera solves this. Tapping the app icon launches Lumia Camera almost instantaneously--still a bit slower than camera apps on other platforms, it appeared, but not really enough to matter. Because Lumia Camera constantly autofocuses, shutter lag appears to have decreased from over a second to 0.3 seconds or so--not perfect, but not bad, either.
Moment Capture takes a complementary approach: Once the camera app is loaded, how do you ensure that you never actually miss a picture? By continuously shooting video, of course. With a long press of the camera button, the Lumia phone begins recording 4K-quality video at 24 frames per second. Rather than try to have you snap photos as fast as possible--which on the Lumia appeared to be about three shots per two seconds--Moment Capture takes the recording and allows you to step through the video, saving any frame you'd like as an 8-megapixel image. Chances are good at least one of those images will be a good shot.