Microsoft to business: Don't worry about Windows 10, consumers will test it
Assures businesses that the radically-faster update process will be reliable because "millions" will have already tested the constant changes.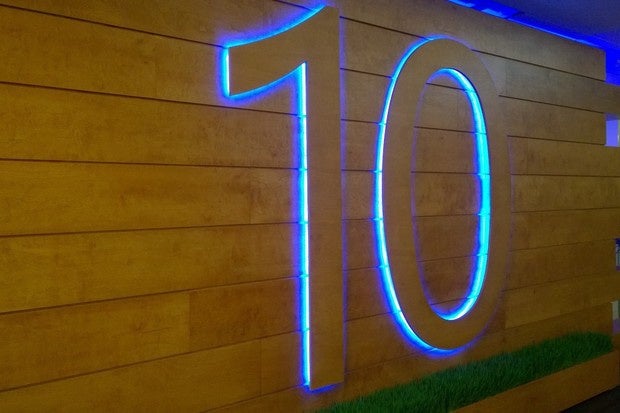 Credit: Image: Mark Hachman via Computerworld
Microsoft on Friday said consumers would become coal mine canaries who turn up bugs and problems in each Windows 10 update months before businesses have to commit to the fixes.
In a blog post that outlined enterprise options for deploying Windows 10's faster update tempo, Microsoft formalized what has been a long-standing practice by savvy customers: wait to accept an update until unwitting others shake out the bugs and Microsoft fixes them.
"By putting devices on the Current branch for Business, enterprises will be able to receive feature updates after their quality and application compatibility has been assessed in the consumer market, while continuing to receive security updates on a regular basis," wrote Jim Alkove, director of program management for Microsoft's enterprise group, in the Jan. 30 post.
The "Current branch" that Alkove mentioned was one of two he labeled for corporate customers. Alkove did not supply details of the Current branch, part of the multi-tier approach he sketched out last September.
Analysts have been saying for months that Microsoft would offer such an option, one that would let businesses update Windows 10 approximately four months after the changes are initially released to the public. Last year, Gartner referred to the option as "enterprise update roll-ups," saying then that Microsoft would generate the roll-ups on a three-times-yearly-or-so schedule by combining the expected monthly updates that consumers receive for Windows 10. Businesses would have an unspecified stretch to test and deploy each roll-up, perhaps the same four months they had last year to get Windows 8.1 onto machines if they wanted to continue receiving security updates.
The Current branch for Business tag, like Gartner's roll-up label, will thus be a middle ground between the constant patter of updates -- not just of security fixes but of new features and UI (user interface) changes -- pushed to consumers and a far more restrictive practice for corporations that will deliver only security updates.
That middle ground was necessary because enterprise IT staffs have historically been adverse to change and conservative in how they adopt new operating systems and update existing ones -- often taking months to test some updates before deciding they're reliable enough to deploy in massive numbers.
What's interesting about Alkove's post is the frankness used to pitch the benefits of Windows 10 radical update process to businesses. In a clear attempt to assure enterprises that a faster cadence would be reliable, Alkove said that the delayed deployment of the Current branch would be safe because consumers had served as guinea pigs.
"By the time Current branch for Business machines are updated, the changes will have been validated by millions of Insiders, consumers and customers' internal test processes for several months, allowing updates to be deployed with this increased assurance of validation," Alkove said.