Microsoft thinks BYOD with Surface 2 tablet and Windows RT 8.1
Microsoft has more than just consumers in mind with the latest Surface tablet. It's also hoping to woo businesses with features for making easier to secure and manage in IT environments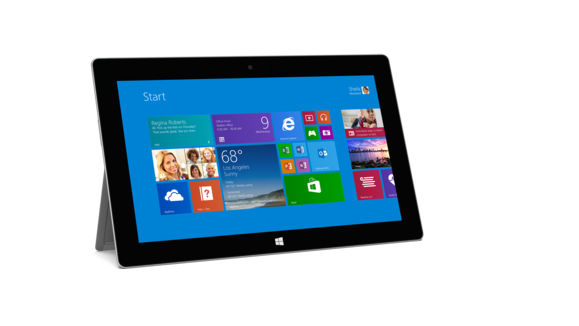 Though consumers are a big target audience for the new Surface 2 tablet, Microsoft is also hoping to woo businesses with features that could make the device easier to secure and manage in IT environments.
The software maker introduced new Surface tablets this week -- the Surface 2 with Windows 8.1 RT and Surface Pro 2 with Windows 8.1. The new Surface 2 features that could be attractive to business users include mobile-device management and virtual private network (VPN) support, said Cyril Belikoff, director of Surface, during an interview at the tablet launch event.
The Surface 2 tablet also has remote lockdown and stronger security features compared to the earlier Surface RT, Belikoff said, adding that the device will be easier for IT administrators to manage.
The tablet's starting price is US$449, but enterprises buying Surface 2 in bulk could get a discount, Belikoff said. Belikoff also showed a charging cabinet -- targeted at hospitals and schools -- in which multiple Surface tablets could be charged simultaneously.
It's true that the number of business features in the Surface 2 may not match those of the Surface Pro 2, which was also announced on Monday. The Surface Pro 2, which starts at $899, has a host of multimedia and connectivity options that may make it a better fit in enterprises. For example, a Surface Pro 2 docking station provides more network and display connectivity, features that are not available on Surface 2. However, the Surface 2 now has a USB 3.0 port, which is an improvement from the USB 2.0 port in its predecessor.
Also, the Surface Pro 2 -- which Microsoft officials called a PC replacement -- will run applications that previously ran on Windows 7 because the tablet is powered by Intel's fourth-generation x86 Core i5 processor, code-named Haswell. The Surface 2 runs on an ARM processor, which is widely used in mobile devices but does not support older Windows x86 applications.
Tablets are increasingly being seen as alternatives to PCs, so it makes sense for Microsoft to target the enterprise market with Surface 2, said Roger Kay, principal analyst at Endpoint Technologies Associates.
IT administrators are usually open to bringing in personal tablets and smartphones with different OSes, and Surface 2 could easily fit into existing environments that rely on Microsoft software, Kay said.
"When you start structuring in communications and security, it will likely appeal to IT managers to put the tablet into the field," Kay said.
The Surface 2 may also appeal to business users as a lighter-weight, lower-cost device than Surface Pro 2, said Jack Gold, principal analyst at J. Gold Associates.