Microsoft Surface 3 promises great battery life, costs just US$499 and runs Windows 8.1
As expected, Microsoft has launched a slightly smaller, significantly cheaper Surface 3 that ditches Windows RT.
Inside the Surface, Microsoft tucked an Intel Atom X7 microprocessor, the same chip Intel launched a few weeks ago at Mobile World Congress. All told, the X7 consumes just six watts, running as low as 1.6GHz while bursting to 2.4GHz when under load. While it might not offer the power of a Core chip in terms of gaming, it's no slouch, as our video below shows.
Microsoft executives warned that Surface 3 buyers shouldn't expect to run CAD or other demanding software. Think of it as a Microsoft Office machine, pure and simple. But battery life, measured in terms of continual video playback, should be about 10 hours--or about one to two hours more than the Surface Pro 3, Meinhard said.
Using a low-power Atom chip instead of a Core chip spawned two other design changes: First, the Surface 3 is entirely sealed and passively cooled, so you won't hear the quiet hiss of fans. Second, the chip's low power requirement has allowed Microsoft to swap a standard charger for the microUSB charger commonly associated with cell phones. Microsoft will include a 13-watt charger in the box, but you can use your own as a spare.
Microsoft upgraded the rear camera from 5 megapixels on the SP3 to 8 megapixels on the Surface 3, which is good enough for a quick snap of a lecturer's blackboard for embedding into OneNote. (The front camera, however, is just 3.5 megapixels.) Microsoft also upgraded the speakers to a Dolby Pro certification. A microSD slot remains, though it's somewhat hidden inside the back of the tablet.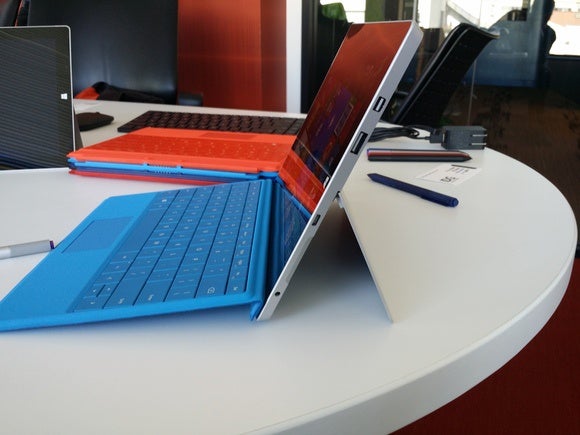 MARK HACHMAN. The Surface 3 has a standard USB 3.0 connector and a microUSB connector to charge the tablet.There's also a mini DisplayPort connector.
People who buy a Surface 3 with the expectation that it will be a poor man's Surface Pro will have to suffer one significant shortcoming: the kickstand. Unlike the SP3, whose kickstand offers nearly a full 180 degrees of range, the Surface 3's kickstand clicks into three fixed angles, versus two angles each for the Surface 2 and Surface Pro 2.
A full line of accessories
The slightly smaller Surface 3 will ship with its own custom back-lit Type Cover. A smaller Touch Cover will also be available, but Meinhard wouldn't disclose any information on its availability. While the Surface 3 was designed without a dedicated stylus (and its keyboard lacks a loop to store it), it contains the same digitizer found in the Surface Pro 3, and will work with the SP3's stylus.

Surface 3 Type Covers and styluses in an array of colors.