Microsoft Surface 3 promises great battery life, costs just US$499 and runs Windows 8.1
As expected, Microsoft has launched a slightly smaller, significantly cheaper Surface 3 that ditches Windows RT.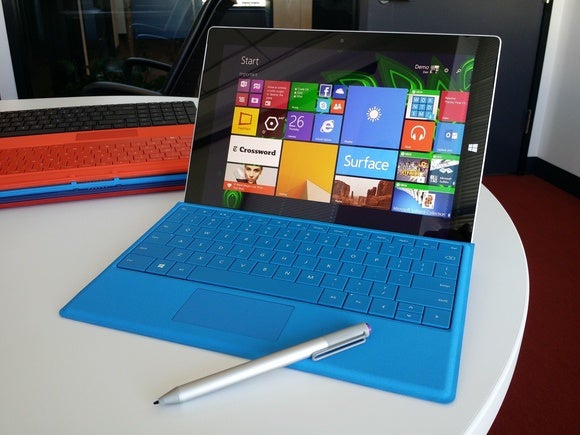 What if you could buy a Surface tablet with a bit less horsepower and a slightly smaller display but longer battery life than the Surface Pro 3? And what if you could have all this for a lot less money? If your wallet is already open, let me tell you what you're buying: the new Microsoft Surface 3--and it's powered by Windows 8.1.
On Tuesday morning, Microsoft launched the Surface 3 with several subtle but critical changes to its entry-level Surface offering. Gone is Windows RT, casually tossed in the dustbin in favor of Windows 8.1. Microsoft also ditched the Surface 2's ARM chip in favor of Intel's latest "Cherry Trail" Atom X7.
It's a move to a more power-efficient processor that I predicted last week.
But what might really sell the Surface 3 is its low price tag: For $499, you get a tablet with 64GB of storage, the same amount found in the $799 version of Surface Pro 3 and the $599 discontinued Surface 2. (A more robust $599 Surface 3 variant with 4GB of RAM and 128GB of flash storage will also be available, together with a future model with LTE connectivity.) The first two Surface 3 tablets will ship on May 5 in 26 markets worldwide.
The story behind the story: Over the past year, the Surface family has significantly increased its standing within Microsoft, becoming a billion-dollar business. But consumers have turned away from entry-level Surface tablets, rejecting the Windows RT operating system and its lack of "real apps."
Microsoft quietly phased out the RT-based Surface 2, and as a result, its entire Surface line-up has boiled down to a single product, the Surface Pro 3. However, the SP3 has two big shortcomings: Its price is significantly higher than more traditional notebooks, and its battery life has never been great. But now an Intel-powered Surface 3 running Windows 8.1 solves most of these problems in a single stroke, and allows Microsoft to address a new tier of potential Surface customers.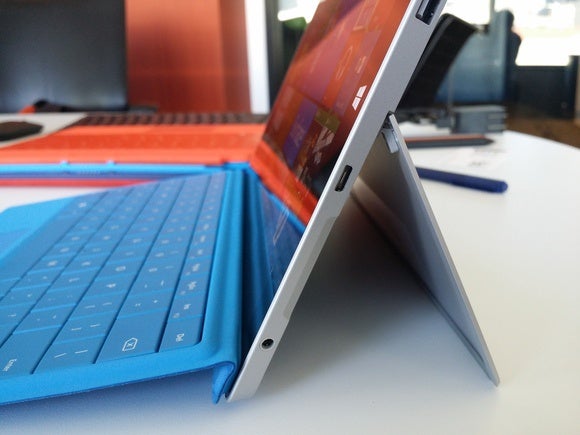 MARK HACHMAN. One drawback: The Surface 3 kickstand is limited to three fixed positions.
"We think students, families, and cost-conscious professionals are going to love this product," said Dennis Meinhard, program manager for the Surface, in an interview. "We've put a lot into that product for that $499 price, with the goal of taking that premium experience that people have told us they loved with Pro 3, and making it available to more people."
Slightly smaller, but not noticeably so
At 10.8 inches, the Surface 3's screen is slightly smaller than the 12-inch screen used by the Surface Pro 3. But Meinhard said the display is still 1920x1080, with optically bonded glass that improves contrast and readability when viewed outdoors. It's also a bit brighter than the SP3 display as well, he said.