Microsoft shakes up the exec org chart as Myerson climbs, Elop falls
CEO Satya Nadella turns back the clock to 2012 by combining devices and Windows into one group under Terry Myerson.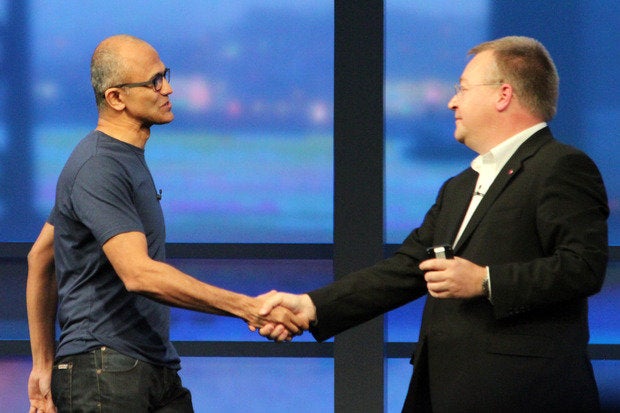 Satya Nadella and Stephen Elop
Microsoft today shuffled its executive ranks, giving Windows chief Terry Myerson more responsibilities and casting out former Nokia CEO Stephen Elop.
The Redmond, Wash. firm also pared the number of major engineering divisions from four to three.
CEO Satya Nadella broke the news Wednesday, with Microsoft issuing both a statement and the email Nadella sent to employees.
"To better align our capabilities and, ultimately, deliver better products and services our customers love at a more rapid pace, I have decided to organize our engineering effort into three groups that work together to deliver on our strategy and ambitions," Nadella said in the email.
Two of the three groups existed prior: Cloud & Enterprise (C+E), led by 18-year veteran Scott Guthrie, and Applications & Services (ASG), headed by Qi Lu. Guthrie's group is getting Dynamics, Microsoft's customer relationship management (CRM) and and enterprise resource planning (ERP) software, which previously was in its own oddball division.
Terry Myerson, who previously directed the Operating System group, will continue to do that while also picking up the Devices team, which Elop had run since his return to Microsoft after the $7.9 billion Nokia acquisition finalized last year. Former CEO Steve Ballmer did the deal just months before he stepped down.
Myerson's new group, a mash of his OS team and Elop's Devices division, will be called "Windows and Devices Group," or WDG for short.
Nadella touted the combination of OS and devices. "This new team brings together all the engineering capability required to drive breakthrough innovations that will propel the Windows ecosystem forward," he said. "This enables us to create new categories while generating enthusiasm and demand for Windows broadly."
The creation of Myerson's WDG was a return to how Microsoft organized its engineering efforts immediately after the mid-2012 launch of its Surface and Surface Pro tablets, the company's first-ever personal computer. Then, Julie Larson-Green, who was later shunted to a different role after Elop came aboard, ran the engineering of Microsoft's OSes and its hardware.
"That's a massive group," said Patrick Moorhead, principal analyst at Moor Insights & Strategy, in an interview today. "I think it might almost be too big to manage."
But Rob Helm, an analyst at Directions on Microsoft, saw it differently. "I think this underlines the fact that Microsoft's hardware business is going to be the first and best customer of Windows," Helm said.
Moorhead viewed the rearrangement of executives' chairs as a continuation of the massive reorganization that Ballmer instituted in July 2013. The then-CEO called it "One Microsoft," and touted it as an efficiency move that would make the firm nimbler in a market quickly skewing towards mobile, which Microsoft has largely missed.