Microsoft pumps up Surface tablets with faster chips, longer battery life
Microsoft announced its next-generation Surface 2 tablet at an event in New York City and promised improvements in both power and battery life.
In the weeks leading up to Monday's launch, PCWorld--among others--opined about what Microsoft would need to accomplish with the Surface 2. Reports also mostly pegged what Microsoft had planned--a refresh of the tablet using an Intel "Haswell" microprocessor, more RAM, and some new, intriguing covers.
Surface Pro 2
The first-generation Surface was the fastest product that users ever tried, Panay said, and the fastest in its class. Surface Pro 2 is faster than 95 percent of all laptops on the market today, Microsoft contends.

A Surface Pro 2 with a new Type Cover
Graphics now run 50 percent faster than the prior generation; the performance improved by 20 percent to "lightning-fast speeds," Panay said. Dolby-qualified speakers were also added to improve the sound quality.
Panay unveiled an improved kickstand, with "better angles." It's a dual-mode kickstand that will allow users to angle it back farther. "Sometimes subtlety is the most powerful force," he said.
"This is something that will change the product in ways you cannot expect," Panay said, referring to the device's new "lap-ability".
Microsoft also addressed the tablet's battery life. With the new Surface Power Cover, which has a 30 watt-hour battery embedded inside, the Surface Pro 2 will have 2.5 times the battery life of the first Surface Pro--more than 10 hours in total. "Pound for pound, watt for watt, it is the fastest product you can use today," Panay said.
Power Cover will have an estimated retail price of $200 and has a projected release date of early 2014.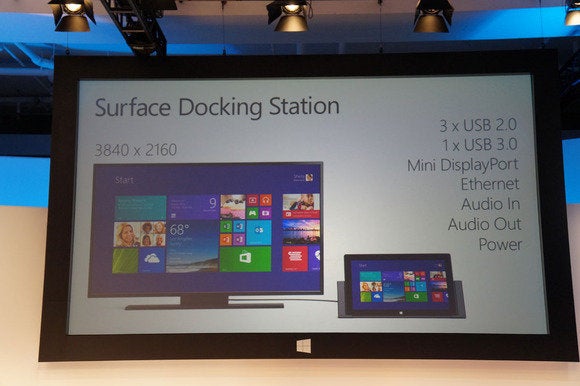 PHOTO: CAITLIN MCGARRYThe Surface Docking Station unveiled at a press event Monday adds I/O functionality to Microsoft's Surface tablet.
As expected, Microsoft also launched a docking station, the Surface Docking Station, with adds I/O functionality to the Surface tablet. The docking station can power two separate monitors for a total display resolution of 3840 x 2160, and it includes three USB 2.0 ports, a USB 3.0 port, a MiniDisplayPort connector that will power two displays, ethernet, and Audio In, Audio Out, plus power. "We now have a workstation PC built in" to the Surface tablet, Panay said.
The Docking Station for Surface Pro will have an estimated retail price of $200 and has a projected release date of early 2014.
Microsoft showed off video being produced by the RED camera, manipulating raw 6K footage. Moviemakers can take the tablet to the set itself, Panay said.
Microsoft also launched Type Cover 2, available in four colors--cyan (blue), magenta (pink), purple, and black. "It's clear that input makes you productive," Panay said.