Microsoft hopes for second chance with Windows 8.1
What does Microsoft need to accomplish at its BUILD developer's conference this week? Establish that it can listen to customers, analysts say.
In part, the optimism is pegged on Windows 8.1. Microsoft has promised a litany of improvements: a revamped Start menu; the capability for corporations to wipe corporate data off of Windows 8 business machines; and friendly features such as sharing backgrounds between the Start page and Desktop.
Windows 8: Is it really as bad as we think?
Microsoft made a big mistake in failing to realize that the vast majority of users would experience Windows 8 from a traditional PC, and not from a Surface or tablet-PC hybrid. From this perspective, the Start screen introduced in Windows 8 makes little sense.
But for tablet users, the Start interface works well. Users have been trained by their smartphones to instinctively reach for the new Windows screen, where large Live Tiles can be easily accessed. That said, Microsoft certainly alienated some users by organizing the tiles according to its own system—placing its key apps, such as People and Calendar, for example, in the first "screen" of the interface. Windows 7 and previous operating systems tended to show the most frequently used apps first, then an alphabetical list of programs when "All Programs" was clicked. This approach makes a comeback in Windows 8.1, and it's a good thing.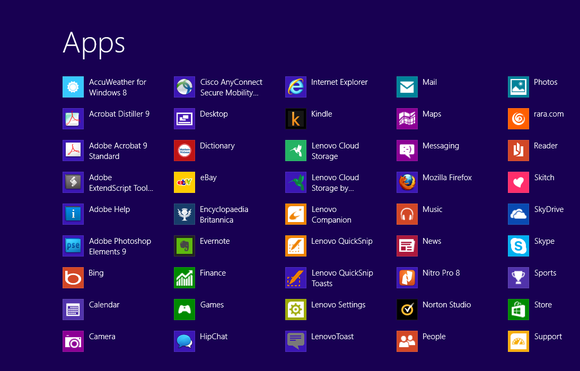 Organized correctly, is this as useful as the Windows 7 Start menu?
Nonetheless, the upcoming "boot to Desktop" feature and the addition of the Start shortcut on the Desktop page contradict each other. Boot to desktop brings users to the familiar environment they know and love, but to do anything, they still need to return to the unfamiliar Start page. A number of third-party add-ons solve the problem, but Microsoft would have been better served by placing a Start option within the Desktop context.
Microsoft also still wastes space in its sprawling suite of Windows Store apps that take up way too much screen space. "Snapping" an app or two—or four, in Windows 8.1—may mitigate the problem, but it still looks inefficient, even if it makes sense from a user-interface perspective. And I still hate using the touch version of Internet Explorer. I'd much rather use the Desktop version or Google's Chrome, instead.
It's probably time to argue, however, that Windows 8 isn't as bad as we think.
With just a couple of clicks, the Start screen can be banished, and the familiar Desktop can be brought back in play. I've used Windows 8 for months, and while I still don't take advantage of all of its tricks and features, I do appreciate what Microsoft is doing under the hood. The problem is that we take some of new features for granted.