Microsoft hopes for second chance with Windows 8.1
What does Microsoft need to accomplish at its BUILD developer's conference this week? Establish that it can listen to customers, analysts say.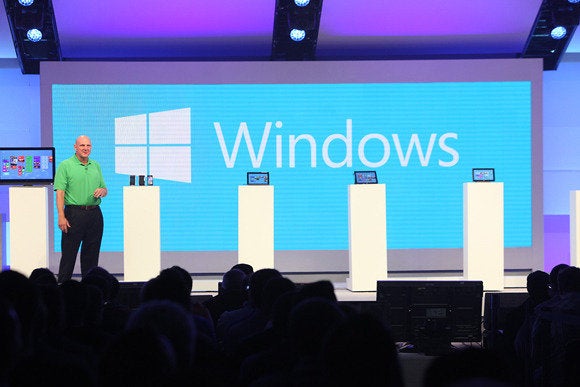 As Microsoft's BUILD developer conference kicks off tomorrow, the company faces a daunting task: To convince developers and tech enthusiasts that it remains on the cutting edge. That's a tough challenge when you're about to release a Windows system update that most think exists to correct nagging flaws.
Indeed, it's hard to make a Band-Aid look like a fresh innovation.
For many consumers, the Windows 8 Start page is a crazy quilt of incoherence that's thrust in their faces as soon as their PCs boot. This will be resolved in a new boot-to-desktop feature, but Windows 8.1 still needs to address a laundry list of other issues, and Windows watchers worldwide remain skeptical.
"I think the [Windows 8] updates have been noticed by the tech community," said Frank Gillett, an analyst with Forrester Research. "But the mass market perception of Windows hasn't changed that much."
What should we expect from BUILD? On June 26, Microsoft will provide its first preview of Windows 8.1, which should dominate discussion on the first day of the conference. On the second day, look for the conversation to turn to Visual Studio and other development initiatives.
That's right: First and foremost, BUILD is a developer's conference, and Microsoft must get software partners interested in platform support. "What I'm hoping for with BUILD is principally a more refined application development story with 8.1, and going out the broader ecosystem," said Wes Miller, an analyst with Directions on Microsoft.
It all comes down to convincing developers that the new Windows ecosystem offers value—and return on investment. PCs, Surface tablets, and Windows Phone handsets represent the three legs of the hardware infrastructure, and they're all tied together by Microsoft's cloud of software and services.
A steep hill to climb
Microsoft offered the Windows 8 developer preview in September 2011, as the first hints arrived that the traditional PC market was in serious decline, and tablets and phones were gobbling up consumer dollars. Microsoft clearly saw our more mobile future, and attached a tablet interface to the front of the traditional Windows operating system. Then came Microsoft's Surface tablet, released in October 2012. The hardware gets praise, but consumers can't stomach its high price and lack of interesting software.
Since it shipped with the Surface Windows 8 Pro tablet last year, Windows 8 has been blamed for the demise of the traditional PC. The criticism was underscored by the decline in corporate licensing, as businesses hesitated to upgrade to an unfamiliar OS. Tami Reller, Microsoft's Windows marketing chief, promises that things will improve in the latter part of the year.