Microsoft hesitates to trumpet Windows 10; fears consumers will delay PC purchases
Smart to focus on enterprises first.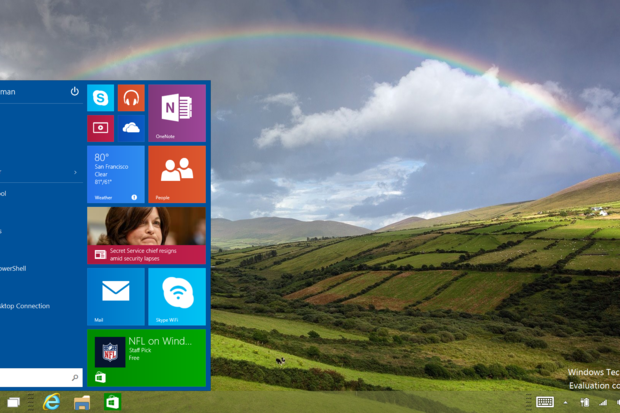 Credit: Mark Hachman
Microsoft has focused on how businesses will benefit from its next operating system, Windows 10, not only because corporate customers are its bread and butter, but to prevent consumers from balking at buying new PCs, an analyst said last week.
"Microsoft can't make a big bang and talk about a new version of Windows in September with the holidays coming and consumers deciding that 'if Windows 10 is coming, I'm just going to wait and not buy a PC,'" said Michael Silver, an analyst with Gartner.
"That's why last week's announcement was pretty quiet and enterprise focused," added Silver, speaking at the Gartner Symposium/ITxpo on Oct. 6. "That's why the hype [about Windows 10] is so low."
Silver was referring to Microsoft's Sept. 30 unveiling of Windows 10, the upgrade slated to ship in mid-2015. At the invite-only news conference, Microsoft touted changes it said would benefit corporations, among them a de-emphasis of Windows 8's dual user interfaces (UI), which businesses had largely rejected for fear that it would confuse employees and require worker retraining.
The key message during the hour-long presentation was that Windows 10 will be familiar to users so that "whether they're coming from Windows 7 or Windows 8, the workers at these companies will be immediately productive," said Windows chief Terry Myerson.
Only after the end-of-year-holiday sales season will Microsoft expand its discussion of Windows 10 beyond enterprises. "Early in 2015 we'll introduce the consumer chapter and talk much more about other device types and more consumer features," said Myerson in a blog posted on the same day as the news conference.
Silver echoed Myerson. "The hype will significantly increase next year after the holidays pass, when Microsoft can really start talking about the benefit of Windows 10 and Cortana, and all the other things they're doing with consumer releases," Silver said.
Microsoft will release a more polished, more feature-filled consumer preview early in 2015, then follow that with discussions aimed at developers sometime in April at its Build conference.
Although the cadence will resemble that of Windows 8 -- whose first two previews were released in September 2011 and February 2012 -- Microsoft has taken a different tack with Windows 10.
For the first look at Windows 8, called Developer Preview, the company spent most of its more elaborate presentation talking about what executives then called the "Metro experience," the tile-style, full-screen interface borrowed from Windows Phone 7 that was intended to address the company's lack of a true touch-based operating system.
Questions about Windows 8 and the enterprise went largely unanswered at the Sept. 19, 2011, event, analysts said after the fact.