Microsoft expands anti-MacBook campaign with switching tips
Illustrates the underdog position of its Surface Pro 3 2-in-1.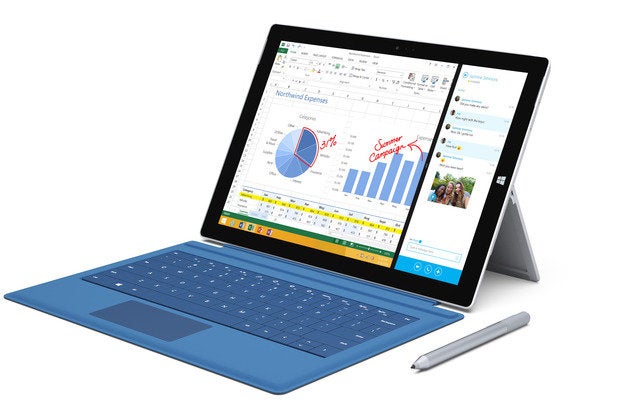 Microsoft recently expanded its campaign against Apple's MacBook Air with a website that offers practical advice to people who have switched or are thinking of switching to a Surface Pro 3.
The site resembled other ditch-a-rival-OS efforts that have long been a part of the personal computing landscape, including those Apple has used to convince consumers that switching from a Windows PC to a Mac is not difficult.
Microsoft's MacBook-to-Surface Pro 3 switching site includes general tips on using Windows, descriptions of navigation and operation equivalents of the former on the latter, an explanation of moving content from the Mac to the Surface, and advice on using Apple's iPhone, iCloud and iTunes on Windows for those who own other Apple devices.
Microsoft has pitted its Surface Pro against Apple's MacBook Air -- the Cupertino, Calif. firm's lightest and thinnest laptop -- since the Surface Pro first hit the market in early 2013, early on arguing that the device is a replacement for both a MacBook Air and an iPad. Later, as tablet sales stalled, Microsoft dropped the iPad comparisons and focused solely on the MacBook Air, contending that the Surface Pro 3 is a better laptop both at the tablet-no-it's-a-notebook May 2014 debut and in a string of humorous ads on television and YouTube. The Redmond, Wash. company has also run MacBook Air buyback and Surface Pro 3 back-to-school promotions aimed at owners or potential owners of the laptop.
The switchers' advice website was simply a pragmatic expansion of those marketing efforts.
But it was also a stark reminder that Microsoft's devices strategy operates from a position of weakness: Only an OS or device maker with a minority stake has reason to admit it must convince people to switch from a dominant player.
Apple, for example, has long offered tips on how to switch from Windows to OS X because its Macs have been a puny part of the overall personal computer market. If Apple is to grow its market share, it's best bet is to steal customers from the Windows world.
Not surprisingly, Apple's Windows-to-OS X switching site has the same kind of advice as Microsoft's newer MacBook Air-to-Surface collection, including keyboard shortcut equivalents.
Yet until the debut of its Surface line in 2012, Microsoft had not seen the need to dip into the switchers market.
Microsoft has never disclosed unit sales of the Surface, but most analysts believe it sold fewer than one million in the most recently-reported quarter, its best ever revenue-wise. Nor does Apple reveal the numbers of its MacBook Air notebooks sold; instead, it publicizes sales of Macs overall, which in the September quarter totaled 5.5 million, a record.