Meet the mobile payment services vying to replace your wallet
Forget fit tech. Wave goodbye to wearables. The next great frontier in mobile might just be your wallet.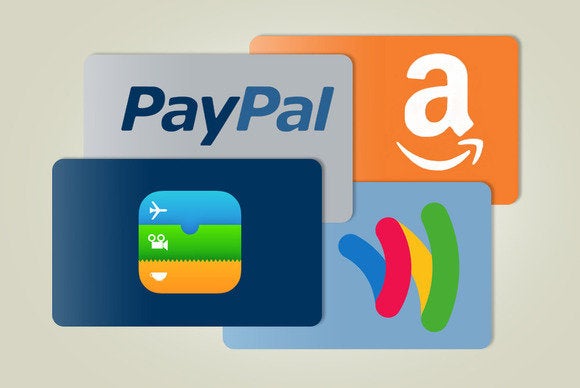 Forget fit tech. Wave goodbye to wearables. The next great frontier in mobile might just be your wallet.
Over the last few years, services like Google Wallet, PayPal Mobile, and Apple's Passbook have sprung up, all with the lofty goal of dragging your wallet out of your back pocket and into the digital age. And things became a lot more crowded in late July when Amazon launched a wallet service of its own.
Still, not all mobile payment services are created equal. Which is right mobile offering for the right circumstance? And how does Amazon Wallet fit into the mix? Read on for our take on which digital wallet product is right for which occasion.
Amazon Wallet
What it is: At the moment, Amazon Wallet is nothing more than an electronic vault for your gift and rewards cards. Users can scan these cards into the app, use their phone to make in-person and online purchases with gift cards, and have the cashier electronically scan a rewards cards, saving you from toting around a pocket full of plastic. In time, Amazon will likely integrate credit and debit cards into Wallet, making the service immensely more useful, but it's likely holding off until it can do so in a safe, encrypted way.
What it's best suited for: Because Amazon Wallet's functionality is a bit limited at the moment, the service is probably best for anyone deeply entwined in Amazon's ecosystem. That'll change drastically should Amazon builds credit and debit card payments into the service; for now, the service is a bit too limited compared to the competition.
How you use it: The Amazon Wallet beta app is currently available on the Amazon Fire Phone, and for other Android devices running Android 4.0 or higher. After you establish a PIN for security purposes, you can load your cards into the app by either scanning the barcode or entering your account number manually, and snapping a photo of the front and back of your card for easy identification. When you're ready to use a card, just tap on the card in the Amazon Wallet and hold your phone up to any cashiers so they can scan the barcode that appears on the screen.
Where it's accepted: At launch, Amazon Wallet is accepted virtually anywhere that offers loyalty programs or gift cards, provided you have one of those cards. Approximately 70 retailers, mostly restaurants along with some minor and major retailers, will automatically update your gift card balance. Supported loyalty programs include major retailers like Best Buy and Kohl's, and local neighborhood shops and boutiques, as long as they are able to scan QR or barcodes.