Making video calls with FaceTime
In this week's Mac 101, Professor Breen describes how to make and receive FaceTime video calls.
Note that if you choose to use someone's iPhone number, you're not limited to calling them on their iPhone. That number is associated with their Apple ID, which means that even if you choose that number and place a FaceTime call to it, FaceTime will "ring" on any devices associated with that Apple ID. So, you might call that number, but the person you're trying to reach may pick up the call on their iPad, iPod touch, or Mac.
In-call options
When we first talked about Messages, I walked you through video chatting within the Messages application. FaceTime on the Mac works similarly. When you establish a call—as caller or recipient—you see a window with two images. The larger one is of the person you're speaking with, and the smaller one is your image.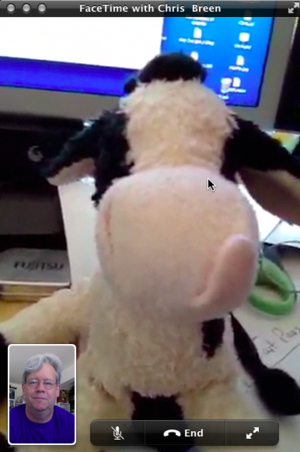 Within the calling window you can mute your mic, end the call, and enter full-screen view.
Within the chat window you have a few options. Move your cursor over the window, and a small gray bar appears at the bottom. The first button in this window lets you mute your microphone. It comes in handy when you shout "That jerk, Scooter!" after your helpmeet asks "Who are you talking to?"
To end a call, just click the End button. And if you'd like to see the call in full-screen view, click the double-arrow button on the right side of the bar (or press Command-Control-F). You can change the image orientation from picture to landscape by clicking your image and then clicking the circular-arrow icon that appears. (You can also press Command-R to toggle between portrait and landscape views.)
Adding and organizing your contacts
If the number or address you click isn't associated with FaceTime, you'll see a message indicating that the person is not available for FaceTime. Regrettably, this "not available" message isn't always helpful—and not because it's possible that the item you clicked really is associated with the person's FaceTime account. It's just that they've switched off FaceTime on the devices they use to receive FaceTime calls.
A more helpful message would state: "I'm sorry, but no FaceTime account is associated with this item." In the end, the onus is on you to obtain from your pals their FaceTime contact information, much as you'd ask them for their email address and phone number.
Once you have that information, you can make calling contacts a bit easier. The way to do that is to launch the Contacts application, choose View > Groups if the Groups pane isn't showing, choose File > New Group, and then create a group for just the people you want to contact over FaceTime. Select those people with FaceTime entries, and drag them into the group you just created. Then, in the FaceTime application, click the Groups button that now appears, and choose your FaceTime group.
Previous Page 1 2 3 4 Next Page