Make your PC kid-friendly with four custom operating systems
Parental controls are outdated. Make your PC fun for all ages using operating systems designed specifically for tech-savvy tykes.
Edubuntu
Like Qimo, Edubuntu is another free operating system based on the popular Ubuntu Linux. Unlike Qimo, Edubuntu eschews a custom child-friendly interface in favor of the Unity Shell, which is the default UI for Ubuntu.
That makes Edubuntu a great choice for teaching older kids about Linux, but there is definitely a steeper learning curve. Edubuntu does come with a myriad of educational software suites preinstalled, such as the KDE Education Suite, GCompris, and Tux4kids, but there's no custom content controls or other parental tools built into the operating system. It's basically a straight-up Ubuntu Linux distro with some educational software baked in.
Though Edubuntu can be configured to run on thin client computer terminals like those you find in libraries and classrooms, the OS can also be installed on your home PC or run from a Live CD. At one point, there was even a live demo available on the Edubuntu website that would let you experiment with the operating system first-hand. Unfortunately, it was removed by press time due to budget constraints.
The process of installing and running Edubuntu is the same as Qimo. Download the ISO file from their website, burn it to a disc or extract it to a bootable external drive, then jack it into your PC and boot to the disc or drive. Edubuntu has pretty forgiving PC requirements: You need just 512MB of RAM, a 1GHz processor and a 20GB (or larger) drive.
DoudouLinux
If Qimo and Edubuntu seems a little too fast for your taste, check out DoudouLinux, another free Linux-based operating system designed with very young children in mind.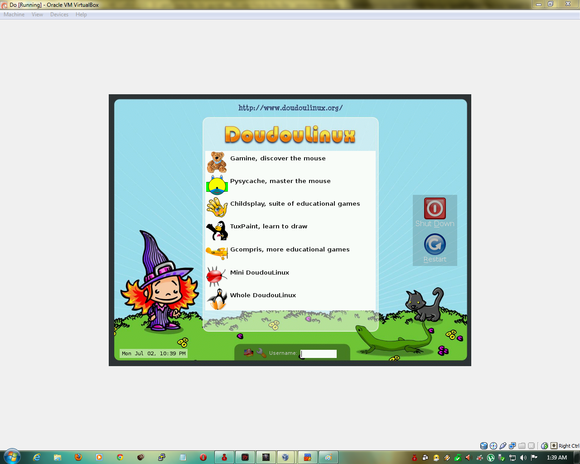 DoudouLinux features a custom user interface designed specifically for much younger children (ages 2 to 12) operating without parental guidance. The operating system is available in almost all languages, and features a full set of OS-level parental controls and content filtering options in addition to a wide array of preinstalled educational applications.
The process of getting DoudouLinux up and running on your PC is basically the same as Qimo or Edubuntu, though it requires only 256MB of RAM and an 800MHz CPU.
KIDO'Z Environment
If you don't want to mess around with alternative operating systems and would rather just install a kid-safe environment on your current PC, KIDO'Z is just what the doctor ordered. KIDO'Z is a subscription-based application with a free trial that's currently available for Windows, Android, Mac OS, or Chrome OS. It creates a kid-friendly interface that provides easy access to safe content.