Make way for Chromebooks! Four reasons they're ready to rock in 2015
Chromebooks were a punch line...until sales skyrocketed last year. Now Microsoft's fighting back with US$200 laptops. Chris Hoffman explains how Chromebooks turned the tide.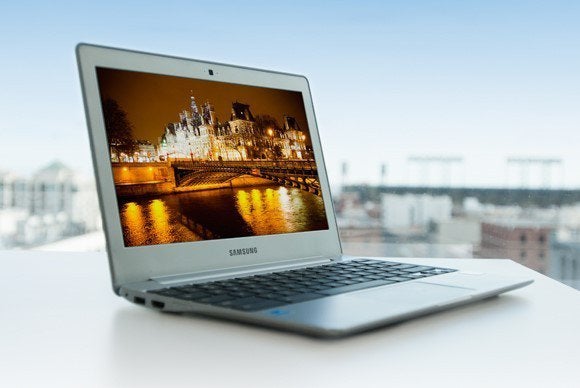 I have a confession to make: I didn't always believe in Chrome OS. Years ago, I--like many--thought Chromebooks were doomed to fail. Who wants a laptop that can only run a browser?
But Google persevered, adding features and sanding out rough spots in the platform. And it's working! Chromebook adoption surged in 2014, giving Chrome OS formidable momentum going into 2015. Why? I'm glad you asked.
They'll continue taking over schools
Schools have emerged as an unexpected bastion for Chromebooks. They've already surpassed iPad shipments into classrooms, and we expect that trend to continue in 2015.
Chromebooks' foothold in education will force more services to support Chrome OS. It's no accident that Adobe is bringing Photoshop on Chromebooks to education customers first. The new Microsoft under Satya Nadella may even be motivated to improve Office Online, giving it offline capabilities on Chrome OS. That would help Microsoft make its case to all the Chromebook-clad schools that they should be using Office Online, not Google Docs.

KEVIN JARRETT VIA FLICKR/CREATIVE COMMONS, Kids and Chromebooks, like peanut butter and jelly.
Both Google and Microsoft understand all too well why it's important to get into schools: Students will most likely stick what they're taught to use, carrying their preferences over to the home--or the workplace. (Business use of Chromebooks already exploded over the past year too, incidentally.) If Chromebooks continue their rise in the education market, we'll be feeling Chrome OS's influence for a long time to come.
The rise of "mobile-first, cloud-first"
"Mobile first, cloud first" may be Microsoft's own new mantra. but right now, Google's Chromebooks are living that mantra better than Microsoft's own products.
Yes, Windows still has the more powerful software. But Chromebooks are rising in part because many people don't need all that powerful software. They need a laptop-shaped machine--that's the mobile part--to access applications that are now choosing to land on PCs via the browser--that's the cloud part. Facebook: in-browser. Email: in-browser. Google Docs: in-browser. Amazon, Evernote, YouTube, Netflix, the PC stand-in for virtually all of the top 25 mobile apps in America: in-browser.

Dedicated 'Chrome Apps' run in their own window and have offline capabilties as well, breaking Chrome OS' reliance on the web even more.
As PCWorld executive editor Melissa Riofrio found when she dove into the Chromebook ecosystem, fewer everyday people need Windows to do most online tasks. So why put up with all the crapware, system administration, and other junk if you don't need it? Chromebooks are simpler--a laptop that's good enough for most people and still getting better.