Lumia 635: Could this be the low-priced future of Windows Phone?
The Lumia 635 from Microsoft is a budget Windows Phone that sacrifices some features, but generally meets the basic requirements of a modern smartphone.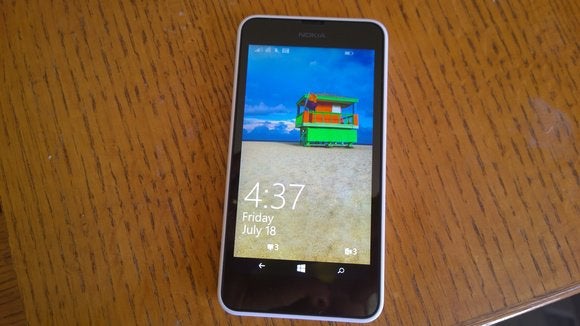 I initially wanted to dislike the Lumia 635, only because I feel Microsoft's Lumia phones can aspire to something better. But the phone delivers the basics, with one inexplicable omission: a front-facing camera.
Microsoft's new Lumia 635 may be marketed as one of the first Windows Phones to be sold to customers with the amazing features of Windows Phone 8.1, but that doesn't mean much: the "Cyan" update will soon roll out Windows Phone 8.1 to all Nokia Windows Phone 8 handsets. No, it's the price that matters: $168 at T-Mobile, or $7 per month over 24 months. (The Lumia 635 is also available via AT&T for $139.)
Why is the price so important? Because Microsoft said this week that the midrange is the company's new focus. In July 18 report, analyst firm Chitika revealed that the Lumia 520 and Lumia 521 delivered more than 54 percent of the ad impressions to the Windows Phone platform. The new chief of Microsoft's device business, Stephen Elop sealed the deal.
"In the near term, we plan to drive Windows Phone volume by targeting the more affordable smartphone segments, which are the fastest growing segments of the market, with Lumia," Elop wrote in a memo this week.
That puts new pressure on the Lumia 635.
No muss, no fuss
The Lumia 635 is an inherently basic phone; the 4.5-inch, 854x480 display even has something I'd forgotten about: visible pixels. The display is viewable in bright sunlight, but you'll need to maximize the brightness, and there's no adaptive brightness control to facilitate that. In general, it looks a little dull.

Viewed outdoors, the Lumia 635 screen is barely legible.
Inside is a 1.2-GHz Snapdragon 400 quad-core chip, which is no slouch. Still, don't expect to run high-performance apps. Our SunSpider test averaged 1.47 seconds, about three times slower than the flagship Lumia Icon. (Our Peacekeeper test failed to run.) But the 512 MB of RAM the phone includes means that you'll be seeing the "Resuming..." message quite a bit as you switch between apps that the Windows Phone OS has suspended. I also noted several instances where the phone would simply lock up briefly, such as after entering the PIN to unlock it.
But this phone has one feature other Windows Phones don't: motion-data collection. This enables it to act as a pedometer in addition to tracking your distance traveled via GPS. That feature ties into the Bing Health & Fitness app, as well as other apps you allow. Personally, knowing I walked a mile or so is good enough for me; but for those obsessed with accomplishing 10,000 steps or more, it might eliminate the need for a separate fitness tracker.