Logitech Harmony Elite remote control review: About as good as a universal remote can be
Logitech's Harmony group has long made some of the best universal remote controls on the market. The Harmony Elite is the culmination of all that experience.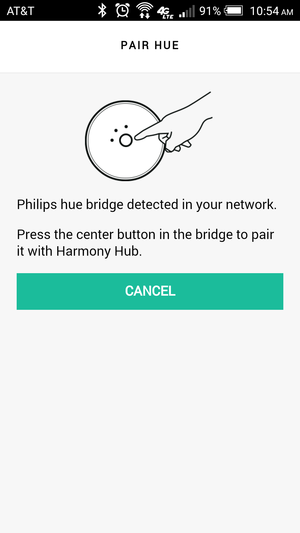 The Harmony Elite automatically detected most of the Wi-Fi devices I wanted it to control, including a Philips Hue Wi-Fi-to-ZigBee bridge.
But you can't use the Harmony Elite to group Sonos players together (or break them apart), edit your track queue, or even browse your music library. The only music you'll see listed are those tracks you've identified as favorites using an actual Sonos app or hardware controller. I don't know how good (or bad) the Harmony Elite is at controlling other players or multi-zone systems since the only system I own is a Sonos, but it sucks as a Sonos controller.
That might be a blessing disguise. Sonos is a multi-room system, after all; if I relied on the Harmony Elite to control it, the remote probably wouldn't get put back in its charging cradle with any regularity. And while I didn't measure how long the battery lasted, it's telling that Logitech's user manual suggests putting it back in the cradle whenever you're not using it.
If you do temporarily misplace the remote, you can use the Harmony app on your smartphone or tablet to control your devices in the same way—well, it's not exactly the same, since you won't have those physical buttons—but at least you won't be up a creek. A remote locator would be a welcome feature (hey, if Roku can do it...).
Connected-home control
Logitech says it has 270,000 devices in its online database, but its list of connected-home devices is much shorter: It works with the Peq, Smart Things, and Insteon connected-home systems; Ecobee, Honeywell, and Nest programmable thermostats; Big Ass Fans' Haiku ceiling fans; LIFX Wi-Fi light bulbs, Philips Hue LED bulbs, Lutron Caseta lighting controls and Serena motorized window shades, and a number of other products (you'll find a complete list here).
Add Logitech's Home Hub Extender ($100) to your configuration and you can go much further, since that device adds support for Z-Wave Plus and ZigBee devices, including connected LED bulbs from Cree, GE Link, Osram, and Sylvania; entry locks from Kwikset, Schlage, and Yale; and in-wall switches from Enerwave, Jasco, Nortek, and Quirky; door, window, and motion sensors from Aeon Labs, and others, and a number of Z-Wave and ZigBee hubs, including the ADT Pulse, Wink Hub, and the Vera Edge.
Is the Harmony Elite the right remote for you?
If you're looking to control just a couple of A/V devices and you don't live in a connected home, the Harmony Elite is much more hardware than you need. You'll end up paying for features and power that you'll never take full advantage of. On the other side of the coin, so to speak, the Harmony Elite isn't powerful enough if you need to control more than 15 A/V devices—whether or not you live in a connected home.
Previous Page 1 2 3 4 5 Next Page