Logitech Harmony Elite remote control review: About as good as a universal remote can be
Logitech's Harmony group has long made some of the best universal remote controls on the market. The Harmony Elite is the culmination of all that experience.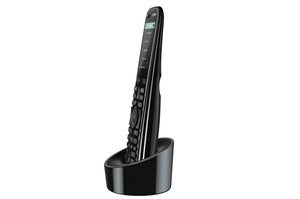 Logitech recommends leaving the Harmony Elite in its charging crade when you're not using it. Credit: Logitech
Of course there are also play/pause and skip forward/back buttons to control media playback; Guide, DVR, Menu, Info, and Exit buttons to control your DVR; channel and volume changers, plus a mute button; a diamond-shaped cursor control with an OK button in the middle; and four color-coded multifunction buttons. The ultimate function of each button depends on the device you're currently controlling. If you can't find a physical button for a particular function, look up at the touchscreen and you'll find it there.
You can create as many additional activities as you'd like, although as I noted above, you can control only 15 A/V devices. The typical home theater will have a TV, a DVR/set-top box, an A/V receiver, a Blu-ray player, and a TV. That's five devices. A higher-end installation might add audio separates (pre-amp, amp, and tuner) and a video projector to make nine devices. That still leaves half-a-dozen slots for a multi-room audio system (such as a Sonos), media streamers (a Roku or Fire TV), a gaming console, and so on.
Many homes will have fewer devices—I'm thinking of a home with just a TV and a soundbar. Bottom line: I think the 15-device limit will pose a problem only for very large households with very complex home theaters and large multi-room audio systems. And if that fits your description, you probably have a custom-installed system anyway.
Touch the Devices button and the remote will display all the hardware you've enrolled into the Harmony app—both A/V devices and connected-home devices. Choose a device from this list, and the physical buttons map themselves to the functions of that device as best they can. If you choose a Sonos player, for instance, and the track-forward/back buttons will move up and down your queue and the volume control will adjust the playback volume.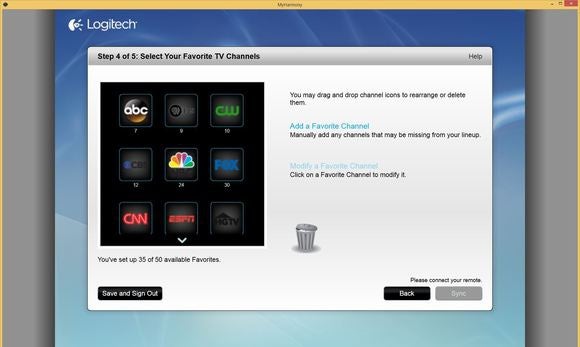 Programming the Harmony Elite is even easier when you use a computer, but the remote must be hardwired via USB to do this.
The rest of the physical buttons don't map neatly to a Sonos player's functions, so they're ignored. But look up at the touchscreen and you'll find controls for toggling shuffle, repeat, and crossfade modes; and choosing the input source (if you have a Sonos Connect that has inputs).
A lousy Sonos controller
But don't get too excited about using the Harmony Elite as a replacement for the Sonos smartphone app, because the Harmony's capabilities are extremely limited here. Define a "listen to Sonos" activity and it will start with your favorite music source at you're preferred volume level, and it will dim the lights or control as many other connected-home devices as you'd like. One thing it can do that the Sonos app cannot is to initiate a playlist (or a song, or an album, or a style of music) with one button press.
Previous Page 1 2 3 4 5 Next Page