Logitech Harmony Elite remote control review: About as good as a universal remote can be
Logitech's Harmony group has long made some of the best universal remote controls on the market. The Harmony Elite is the culmination of all that experience.
Much of the initial Harmony Elite set-up is accomplished using a smartphone or tablet app (there are Android and iOS versions). The programming occurs via Bluetooth; alternatively, you can program the remote using a PC or Mac, but then you need to connect the remote to the computer via USB.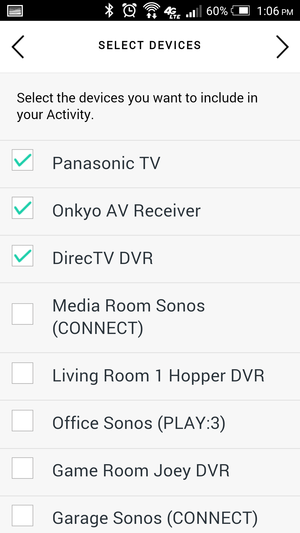 Programming "activities" enables you to issue a plethora of commands to many devices with the touch of a single button.
Activities are sequences of events that involve one or or multiple Devices (the other touch-sensitive button). My "Watch TV" activity, for instance, consists of turning on my Panasonic Viera TV, Onkyo TX-NR737 A/V receiver, and my DirecTV set-top box and setting the TV and A/V receiver to the correct inputs and outputs. The set-top box tunes to my favorite channel. Thanks to HDMI CEC, I can already turn on all three devices, control the volume, and turn them all off using just one remote control, but that's about all that protocol can do.
With the Harmony Elite, I can also turn off my Sonos music system and dim or change the color of the LED lights in my home theater, adjust my thermostat or just turn on a ceiling fan, close my motorized windows shades (if I had those), and a whole lot more—all with the press of a single button.
As soon as the Watch TV activity sequence is finished, the touchscreen remote changes to display the logos of my favorite 50 channels. Touch the logo and the set-top box changes to that channel.
If you have more than 50 favorite channels, just swipe the touchscreen a couple of times and you'll find a numeric keypad. You can also have multiple activities using the same devices. You can turn the lights up bright and tune the TV to your favorite news channel to watch the news, for instance, but dim the lights and turn on Netflix for movie night.
From then on the remote behaves very much like the DirecTV remote it replaced. I can call up the program guide or the list of programs recorded on my DVR, display DirecTV's on-demand offerings, and do anything else that the original remote can do. All of the most important functions are mapped to physical buttons, and those that aren't are displayed on the touchscreen.
Lots of lovely buttons
The touchscreen is great, and I'll get back to that in a moment, but what really makes the remote such a joy to use are the 24 physical buttons below it. Nothing delivers tactile feedback like a physical button, and the Harmony Elite has a button for every important function on a TV, pay-TV set-top box, and media streamer. It even has buttons for turning connected lights on and off. And as you'd expect from a product in this price range, all of those buttons are backlit so you can easily seem them in a darkened room. The remote even has dedicated buttons for controlling connected-home devices, such as your lights.
Previous Page 1 2 3 4 5 Next Page