LG Watch Urbane 2nd Edition: My first 18 hours with LG's Android Wear watch-phone
Yep, the latest Watch Urbane makes voice calls. Performance has been spotty, but there's no disputing this is the most feature-packed Android Wear watch around.
Unfortunately, friction like this has been par for the Android Wear course. Throughout my almost 18-month experience with the smartwatch OS, features have often failed to work from the get-go, or have broken down after working properly, only to be fixed with Android Wear updates, individual app updates, or watch hardware system updates. In fact, Maps didn't work properly on the Urbane 2nd Edition until I uninstalled the app on my phone, and then reinstalled it (along with an un-pairing/re-pairing routine to make sure the watch was getting a clean, fresh start).
This isn't a final review, and maybe my connectivity problems will sort themselves out in due time. So stay tuned on that front.
Reign of the big, hunky man-watch
In terms of the hardware itself, I like what I see—but what I see may not work for you. With a 44.5 mm diameter, the Urbane 2nd Edition is mid-size for an Android Wear watch, which tend to range from 42 mm to 46 mm. I don't mind the form factor, but this certainly isn't a watch that will appeal to those of slimmer wrists (on the Game of Thrones scale, mine are much more Theon Greyjoy than Gregor Clegane).
The Urbane 2nd Edition design aesthetic is sporty-chunky-hunky, and I dig all the points of visual interest that LG has built in. With prominent strap lugs, and a contoured stainless steel case rife with angles and sweeps, the watch makes a much more showy statement than the Huawei Watch or 2nd-gen Moto 360. Add in three functional buttons—along with a great selection of watchface complications—and you've got a lot to look at.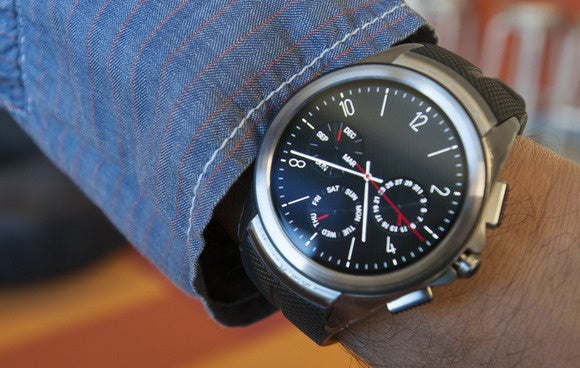 Mmmmm... complications. Credit: Rob Schultz
The textured rubber strap is comfortable. In fact, I've always liked how rubber straps grip my wrist, and almost self-adjust to a snug, but un-restricting position. That said, I don't think the rubber vibe marries well to the much more sophisticated and architectural case. And, no, you won't be swapping straps, as the cellular antenna is integral to LG's band.
The 1.38-inch, 480x480 display is good for 348 pixels per inch. LG has always delivered great power efficiency with its P-OLED display tech, and this model has a whopping 570 mAh battery inside (LG's G Watch R has a 410 mAh battery). Nonetheless, I'm worried about battery life. As I post this article at 10:50 am, the Urbane 2nd Edition has only 49-percent battery life left—this after about five hours of heavy use. I fear voice calling takes a lot out of this watch, as a long call last night left the watch feeling toasty to the touch.
So: Can the battery hold up under "normal" use? Will my Wi-Fi problems ever get fixed? I'll answer all these questions and more in the final review.