LG 55EC9300 curved OLED HDTV review: Stunning image quality, but no 4K
The LG 55EC9300 is an excellent TV, thanks to OLED technology, curved glass, and WebOS. It would be even better in 4K, but it would also be considerably more expensive.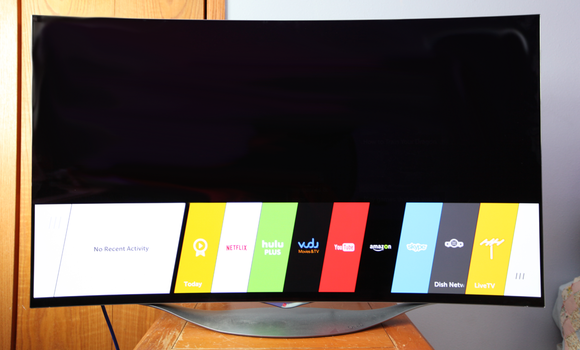 LG's 55-inch OLED HDTV (model number 55EC9300) is a stunner, with a slight curve that brings the right and left edges of the screen ever so slightly closer to your eyes. And while its $3500 price tag will give most consumers pause, especially considering its resolution is limited to 1080p, that's really not such a terrible shortcoming. There's very little 4K content to be had today, and that situation will improve only marginally in 2015.
What makes the 55EC9300 so interesting--in addition to the curve, of course--is its use of OLED technology (the acronym stands for organic light-emitting diode). OLED panels are naturally emissive, which means they radiate their own light. The backlights that LCD panels require can result in uneven brightness and contrast (the difference between the darkest and lightest images the TV can produce).
LG's panel can turn individual pixels on and off to produce extremely deep blacks and very high contrast. Picture quality was excellent when the room was completely dark, and only slightly less so when the room was filled with sunlight.
Television manufacturers like LG are following the lead of movie-theater operators in offering curved displays, and I think that's a good thing. I found that the curved screen drew me deeper into the experience whether I was watching movies or playing games.
Eliminating the backlight also enabled LG to make the 55EC9300's chassis remarkably thin: LG says its depth is just 0.17 inches at its thinnest, which is about the thickness of a few credit cards. It comes with a tabletop stand, but you'll need to pay extra to wall-mount this TV.
LG acquired WebOS--a Linux-based operating system originally developed for mobile devices--from HP back in 2013 and built a terrific smart-TV user interface on top of it. When the TV first starts up, you almost feel like you're playing that Flower game on a PlayStation. You operate the elongated multi-function remote control like a mouse to move a pointer over the screen to adjust the controls and launch apps, which include Hulu, Amazon Instant Video, and Netflix. The user interface is intuitive, colorful, and even fun to use.
It wouldn't be a smart TV without Internet connectivity, and LG provides both wireless and wired ethernet options (Wi-Fi is great, but a wired connection is always the best, if not always the most convenient alternative). The 55EC9300 also has a USB port for sharing audio, video, and photos; four HDMI 1.4 inputs (three on the side and one in the rear); composite and component video inputs; a TOSLink optical digital audio output; and an RS-232 port.