Lenovo's IdeaTab A1000 is craptastically cheap
A good tablet starts with a good screen, but the IdeaPad A1000's screen is quite bad.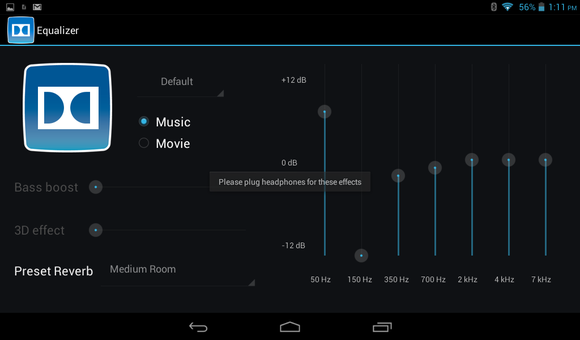 But, but, but I do have headphones plugged in! Honest!
The Dolby Digital Plus equalizer in the Settings app was a big disappointment, if by "disappointment" you mean "huge, colossal pile of fail." It has a big blue Dolby logo that you tap to turn the effect on and off. When it's on, the mids and highs come out more, and the music gets louder and fuller. When it's off, the bass stands out better, but the music sounds thinner overall. Below the logo is an impressive-looking equalizer--but every time I touched it, I got a message announcing that it works only with headphones, even when I had headphones plugged in. I tried four sets of headphones in the 3.5mm jack, and audio played through them just fine (and sounded sweet), but the equalizer refused to acknowledge their existence.
Bottom line
I didn't mentioned some of the basic specs--1.2GHz dual-core chip, 1GB RAM, 3500mAh battery, Bluetooth 4.0--until now because, if you're concerned with specs, you probably aren't considering this tablet. Likewise, if you love games and movies, you probably aren't considering this tablet.

The Nexus 7 (right) runs circles around the IdeaPad A1000 on every criterion but price. And as they say, money isn't everything.
If you just want a cheap Android tablet to have around, this one qualifies. But do yourself a favor and try to scrape up the extra Benjamin for a Nexus 7, which runs Android 4.3 (the A1000 runs 4.1) and sports a 1280-by-800-pixel IPS screen that's a squillion times better, give or take a couple of zeroes. Right now, the Nexus 7 is the best 7-inch tablet you can get. The A1000 is just frustrating in comparison.
Previous Page 1 2 3