Lenovo's IdeaTab A1000 is craptastically cheap
A good tablet starts with a good screen, but the IdeaPad A1000's screen is quite bad.
Unlike Lenovo's $149 IdeaTab A2107, the A1000 lacks a back camera. It does have a front-facing camera for videochatting, and Lenovo includes the stock Android Camera app, in case you're desperate enough to use the 0.3-megapixel front camera for noisy stills or videos--but you really shouldn't bother.
Slow your roll
Using the A1000 isn't much more fun than looking at it. Performance ranges from slightly sluggish to head-smackingly slow. When you turn the tablet from portrait orientation to landscape, or vice versa, the sequence runs like this: First there's a delay, then the folder-style widgets disappear, then the wallpaper rotates, and then the tablet redraws the folders and icons. The process happens slowly enough for you to think to yourself, "Hey, why isn't it rotat--oh, there it goes." Every. Single. Time.
The home-screen widgets are a ripoff of the unpopular skeuomorphic elements of iOS--the calendar widget has a torn-paper effect and a "turn pages here" curl that doesn't actually do anything. The notepad is yellow and has a pushpin and other pages peeking out from the back.
The folder-style widgets (for Media, Social, and Tools) are extra-super-duper-double-plus aggravating because the icons inside are big enough to tap, so I found myself tapping on the one I wanted and then being annoyed because, instead of launching the app I had tapped, the software opened the whole folder, and I had to tap the app's icon again--for real, this time. Every. Single. Time. Fortunately, you can get rid of these default widgets and use regular Android folders instead.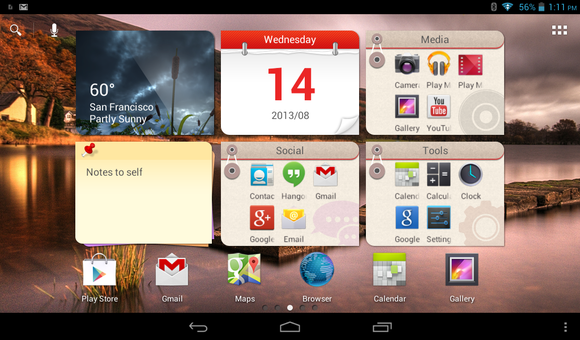 Downloading multiple apps slowed down the whole tablet. Scrolling through long pages of text was smooth enough, but occasionally I had to tap buttons toward the screen's edges three or four times before the tap registered. The tablet runs Android 4.1, which Lenovo didn't gunk up with too many dumb extras...or any cool, helpful extras either. Asphalt 7 took a while to load but played okay, as did the Unreal Engine showoff piece Epic Citadel, though its built-in benchmark averaged a mediocre 34.6 frames per second. But the poor screen is more annoying than the poky load times when you're trying to play games--especially tilt-controlled games, since the colors wash out as soon as you tilt the tablet.
Equalize this
The A1000's biggest selling point, besides it low price, is its stereo speakers, which sound nice and loud. The audio output doesn't rival that of a higher-end Bluetooth speaker like the Jambox, but it's about as full and heavy as you'd get from portable capsule speakers. If you travel a lot and don't like to bring an extra travel speaker, this tablet might keep you entertained--if you can live with the 8GB or 16GB storage limits, keep some tunes on MicroSD cards (up to 32GB cards are supported), or have plentiful Wi-Fi for streaming. But the A1000 isn't a total entertainment package, since movies and TV shows suffer from the screen's poor viewing angles and general crumminess.